Monayi Angane Aanayi: Aju Varghese to bite the taste of heroism

Monayi Angane Aanayi malayalam movie will feature Aju Varghese as lead hero. After getting charming roles in Malarvadi Arts Club, Sevenes, Doctor Love, Thattathin Marayathu and Kili Poyi, Aju is gearing up helm a project on his shoulders. Directed by Santhosh Khan, the movie will be produced by Shaji Kanjilethu, Jamal Palaghat, and Joy under A to Z Creations banner.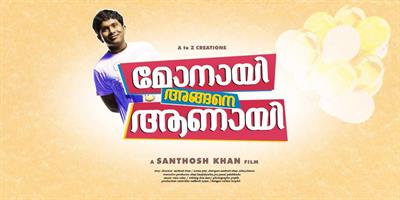 Even though Aju Varghese has shown his acting brilliance in Malarvadi Arts Club, Manikya Kallu, Sevenes, Doctor Love and Mayamohini, it was Thattathin Marayathu which gave a real break for actor to keep his head high with a handful of movies in kitty. After Thattathin Marayathu, young movie lovers in Kerala took him on their shoulders recognizing him as a real actor.

Bhoopadathil Illatha Oridam and Chapters were followed next, but his bold presence in 'Kili Poyi' added yet another feather to his glittering cap already adored with gold. Now Aju is on cloud nine gearing up to bite the taste of heroism.

'Monayi Angane Aanayi', directed by Santhosh Khan will bring Aju as sole hero which is to be produced by Shaji Kanjileth, Jamal Palaghat, and Joy under the banner of A to Z Creations.

As the title suggests, 'Monayi Angane Aanayi' is a fun filled movie which would be jammed with all the essence needed for a commercial movie. After creating a huge buzz with 'Kili Poyi', this movie is set to be a stepping stone for Aju to rise up the ladder stand equal to other young actors in the malayalam movie industry.

'Kili Poyi' which was themed around the life of 2 guys using marinjuana, the movie was termed as the 62nd stoner movie in the world. Stoner film is fused under the genre that revolves around the use of marijuana.

The story of the movie has been written by Santhosh Khan while the screenplay is safe in the hands of Ullas, Johnson, and Santhosh Khan. The tunes would be set by Vinu Uday while Prajith will zoom the camera. The shooting of 'Monayi Angane Aanayi' is set to start from April.