Saint Dracula 3D: Rupesh Paul's movie release date pegged for 29th March

Saint Dracula 3D movie directed by Rupesh Paul is ready for release with the date set for 29th March 2013. With Rupesh Paul busy with the final schedule of his much hyped 'Kamasutra 3D', all eyes are on Saint Dracula 3D which tells the dark and romantic side of Dracula, the blood thirsty demon.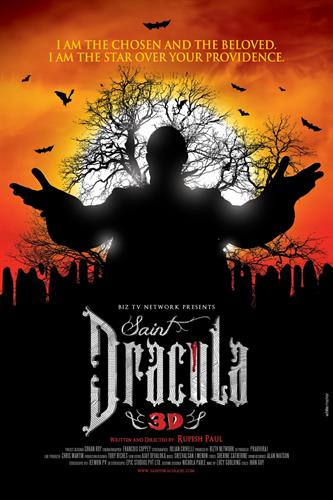 Get ready to experience the real taste of 3D on big screen with Saint Dracula which would hit theatres on 29th March 2013. Directed by Rupesh Paul, 'Saint Dracula 3D' is packed with hot and spicy scenes which explores the dark and romantic side of Dracula the blood thirsty demon. Even though a number of movies themed around the life of Dracula had already reached theatres, 'Saint Dracula' will be the first ever stereoscopic 3D movie ever made about him.

Rupesh Paul, who started his career as a journalist has changed his interest to the film industry. After debuting as director with 'Laptop', based on the short story written by Subhash Chandran had taken a step forward with a number of short films including Pithavum Kanyakayum and The Secret Diaries of Monalisa. Adding more to the list comes projects like Saint Dracula 3D, Kamasutra 3D and What the F.

'Saint Dracula 3D' produced by Sohan Roy's BizTV Network, the movie was shot in the exotic locations of Liverpool, Manchester and Whales in UK. Shot by Frenchman Francois Coppey with camera 'RED', the 3D conversion was done by Julian Crivelli. After screening at the Jaipur International Film Festival, 80 minutes lengthy Dracula 3D was screened at United Arab Emirates as a part of the narrative feature competition on 1st March 2013. The movie had already got wide spread appreciation including from Cannes Film Market, Berlin Film Market and American Film Market along with honour from the Motion Picture Association of Antigua (West Indies).

"Saint Dracula 3D", has been awarded an 'A' certificate by the Central Board of Film Certification along with chopping many scenes from the movie. It is known that some lovemaking scenes were chopped by the censors. From the words of the director, re-editing the scenes would be out of the cage with 40 to 45 seconds cut off, making no sense for the viewers who might blame the editors. Taking a leap forward, Roopesh Paul has uploaded the uncensored version of the film on YouTube. Unlike other movies filmed on Dracula, "Saint Dracula 3D" takes a different shape bring him up as romantic hero rather than a blood-sucking vampire.

Roopesh is also gearing up with his next venture "Kamasutra 3D" is the 3D adaptation of the Indian mythological tale which features Sherlyn Chopra in lead. The movie will be released in prominent theatres in India including Kerala.