Bandi Bunty — Story of a Thief: Sudhir Nair to unfold a mystery

Bandi Bunty – Story of a Thief malayalam movie will feature Sudhir Nair in lead. To be directed by debutant Manoj Ram who worked as an assistant with popular bollywood director Ram Gopal Varma in movies like Rangeela and Satya. Bandi Chor – Story tells the tale of notorious thief Devinder Singh alias Bunty Chor. Nana Patekar and Nasser will be donning prominent roles.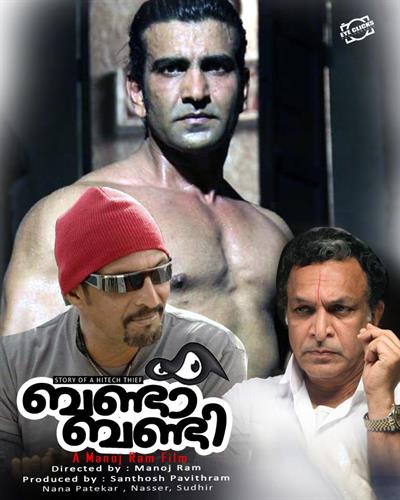 The adventurous life of infamous hi tech thief Devinder Singh alias Bunty Chor is ready to be unfolded on silver screen with debutant film maker Manoj Ram shouldering the project. Simultaneously made in 4 languages, the movie titled as 'Bandi Bunty – Story of a Thief', will feature Dracula 3D fame Shdheer Nair donning the key role. Bollywood stars Nana Patekaer, and Nasser would also be seen in the movie giving life to other prominent characters.

Bunty Chor who had committed over 500 burglaries started his life of infamy in 1993 was caught by the police and kept under their custody for few days. Being a mastermind in escaping, Devinder went around the country showing his skill in burglary. In 2008, Dibakar Banerjee directed a movie titled 'Oye Lucky, Lucky Oye' with Abhay Deol playing the role of Lucky Singh, a loveable thief who has a fancy for luxury cars and watches. The movie which was projected to run around the life of 'Bunty' received great applause from movie lovers.

The name of Devinder Singh alias Bunty Chor became a talk among the Kerala circle as he broke into a big mansion and stole an SUV and a huge amount. The popularity made by Bunty would be the prime reason which made the team to go up with a theme which revolves around his life.

From the words of the Manoj, 'Bandi Bunty – Story of a Thief' would unveil the real life incidents that happened in the life of the Bunty from his exit from Big Boss reality show in 2010 till his arrival at Thiruvananthapuram in January. As the team had done an extensive research, the good side in the real life of bunty was revealed. The movie sheds light into the true life of 'Bunty' during the last 3 years.

Sudhir who resembled much closer to Bunty was selected to play the lead role while an actress to play the heroine is on search. This multi-lingual film shot in Hindi, Malayalam, Telugu and Tamil languages will be movie is produced by Santhosh Pavithram. The regular shooting would start from May in parts of Kerala, Bangalore, Goa and Mumbai.