Sound Thoma malayalam movie song Thoma style generates viral mania

Sound Thoma malayalam movie song Thoma style featuring Dileep and Namitha Pramod in lead has already been taken up by the mass. The movie which is slated to be released on 5th April is one of the most anticipated malayalam movie in 2013. For the script of Benny P Nairambalam, director Vyshakh has given his signature touch visualizing it beautifully to entertain the spectators.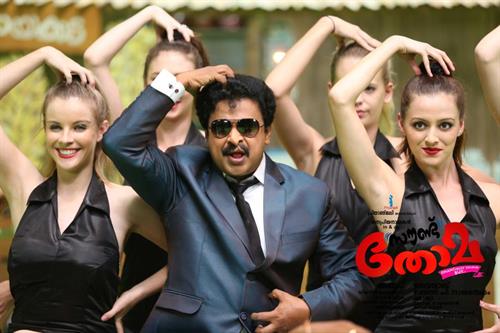 Dileep is a versatile actor who is born to win. Debuting with Ennodu Isttam Koodamo in 1992, Dileep had been an active presence in the malayalam film industry for the past 2 decades. His versatile acting talent has always been appreciated which made him one of the fin actor in south india. Standing on the top getting featured as Sathya Sai Baba in the upcoming telugu movie directed by Kodi Ramakrishna, Dileep is so humbled to undertake new projects which could entertain the audience.

With hours left for the release of 'Sound Thoma', one of the most anticipated malayalam movie in 2013, the movie would be a 100% entertainer. Couple of video songs which were released had caught the attention of the viewers getting huge response worldwide. The song "Kandal Njanoru(Thoma Style)" sung by Dileep is an exceptional style is worth watching. The best part of the song would be its miraculous visualization which makes the viewers watch it again and again.

For the lyrics of Nadirsha, Gopi Sunder has rendered the tune which really soothes the ears of the listeners. Shaji Kumar has done a great job behind the camera while the art works look vibrant.

The song which features Dileep and Namitha Pramod had got more than 25,000 viewers in less than 24 hours and still the number is counting on. So if you missed the song, do enjoy it now.

For the script and screenplay of Benny P Nairambalam, Vyshakh has visualized the entire movie at its best. The movie tells the tale of a rich gentleman with a severe problem with his voice. He later falls in love with a Radio Jockey who has a beautiful sound. It would be the fourth venture of Vyshakh after Pokkiri Raja, Seniors and Mallu Singh.

The movie is produced by Anoop while the background score and soundtrack were being composed by Gopi Sundar. The 5 Crore budget 'Sound Thoma' will be released on 5th April 2013 at prominent theatres.