Idukki Gold: A pleasue ride with Aashiq Abu under making

Idukki Gold malayalam movie preview, story, first look posters, cast n crew are given here. Directed by Aashiq Abu, the movie will feature Maninapillai raju, Babu Antony, Raveendran, Shankar and Lal in the lead roles. Being an Aashiq Abu project, 'Idukki Gold', had created a huge buzz right from its announcement a year ago. Even though he had directed a couple of movies later with 22 Female Kottayam and Da Thadiya, time was given for the completion of its script work. With all the procedures ready, the shoo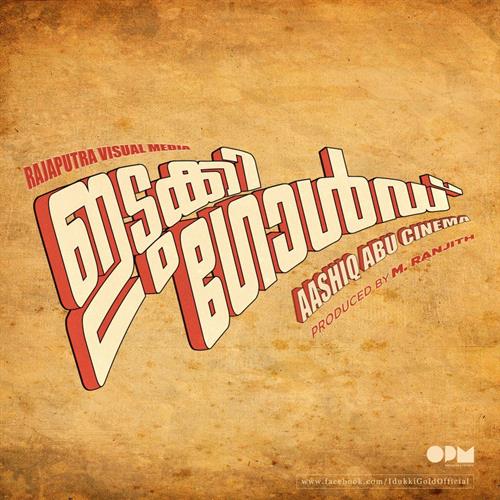 Even though only 4 movies are credited in the name of director Aashiq Abu, the time period was enough for him to tag himself along with the top film makers in malayalam. After working alongside of Kamal for five years, made his directorial debut with Daddy Cool which was declared a hit clinching 11 Crores from the box office. His second venture 'Salt N Pepper' which brought fame and reputation was well received by audience making it a blockbuster movie. Later the Tami, Telugu and Hindi remake rights were bought by Prakash Raj, actor and director popular in tamil industry.

Even though he had directed a couple of movies later with 22 Female Kottayam and Da Thadiya, time was given for the completion of its script work. With the script and all other procedures ready with 'Idukki Gold', the shooting of the movie will commence from 5th May 2013.

Based on a short story by Santhosh Echikkanam, 'Idukki Gold' revolves around the story of a former ATS officer, who returns to his village in search of his old friends and wish to lead a normal life free from tensions. To find his friends who studied with him from the school days, he gives a news paper advertisement.

A couple of days later, a person with the story of their old friendship on lips arrives at his home. Being a well nourished thief, the man win heart of the ATS officer. Rest of the story pools into the problems created by the advertisement in the life of the officer. The movie will feature Maninapillai Raju, Babu Antony, Raveendran, Shankar and Lal in the lead roles.

Dileesh Nair and Shyam Pushkaran who had served behind the screen as the scriptwriters of Salt N Pepper will lend their hands for the script work of 'Idukki Gold'. Fahad Fazil, Vijayaraghavan and Rima Kallingal will be donning other prominent roles in the movie. To be produced by Ranjith, the Cinematography will be safe in the hands of Shyju Khalid. The movie will be blessed with the music of Bijipal.

Aashiq had already announced a couple of projects with Mohanla and Mammootty in lead. Titled as Gangster, the movie will bring Mammootty, Fahadh Fazil, Meera Jasmin and Shekar Menon onto a single platform. The shooting of the movie was postponed to the end of 2013 as both Mammootty and Fahad had committed few other projects. On the other hand, Aashiq would be doing a project with Mohanlal titled as 'Kodumkattu', a movie set for 2014 release.