Mumbai Police: An extraordinary investigation thriller from Rosshan Andrrews

Mumbai Police malayalam movie preview, synopsis, story, posters and stills are given here. Directed by Rosshan Andrrews will be an extraordinary investigation thriller which features Prithviraj, Jayasurya, Rahman, Anoop Menon, Kunjan, Meera Nandan, Aparna Nair, Hima Davis and Harish in lead. Being one of the most anticipated malayalam movie in 2013, Mumbai Police would tell the deep friendship between 3 police officers and an investigation which happens later regarding a murder.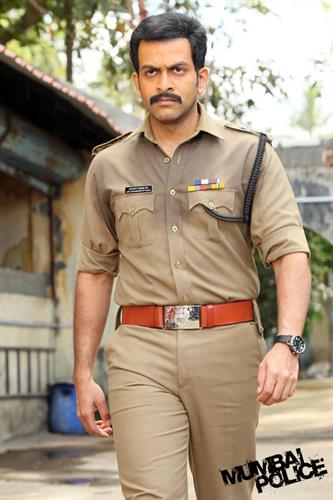 Even though a number of investigation movies had been made in malayalam, the style of telling the tale will be different when it comes into the hands of Rosshan Andrrews. Rosshan has proved his mettle as a director right from his directorial debut 'Udayanaanu Thaaram'. Even though his just previous flick 'Cassanovva' made out of a budget of 21 Crores was a disaster, much expectation is on the director who had given movies like Notebook and Evidam Svargamaanu.

Announced in 2010, the pooja of the movie was held on 18th December. But the shooting of 'Mumbai Police' was delayed to the production work of 'Cassanovva'. Evere since the project got announced, it became the hot talk of the town. After much up and down, the shooting of 'Mumbai Police' started in January with a refurbishing team of actors. With a busy schedule the shooting got wrapped up and is currently at the editor's table.

Unlike usual police stories, 'Mumbai Police' tells the deep friendship which is being shared with 3 police officers. Tagged under the genre of suspense thriller, the movie is about a murder mystery and an investigation to be followed. Written by Bobby-Sanjay, 'Mumbai Police' narrates the story of three vibrant police officers who are close friends.

Ernakulam Assistant Commissioner Antony Moses (Prithviraj), Mattancherry Assistant Commissioner Aryan John Jacob (Jayasurya) and City Police Commissioner Faran (Rahman) who shares friendship create nightmare to the mafia and the underworld of Kochi city. Known among the media world as fearless and efficient officers of Mumbai Police, the three are being employed at Kochi while they have connections with Mumbai too.

The three offers joins together to solve a murder mystery. The incidents to be followed will unfold the suspense which makes the movie interesting to watch. Anoop Menon, Kunjan(Sudhakaran), Mukundan, Chali Pala, Captain Raju, Rohit, Meera Nandan(Annie) and Aparna Nair (Rakhee Menon) will be seen in supporting roles. Tamil actor Harish will also be seen in a powerful character.

Debutant Hima Davis will play the role of Rebecca, the lady love of Jayasurya. Being a keralite settled in Vienna, Hima had participated in Vodafone Thaka Dhimi, a dance reality show in Asianet and also in few ad films too. This movie would be a perfect launch for the young actress to start her acting career with young heroes Prithviraj and Jayasurya.

Produced by Nisad Haneefa and co-produced by Nivas Haneef and Niyas Haneefa, the movie will have the majestic music composed by Gopi Sunder. The cinematography was carried out by G. Diwakar. With the post production works over, 'Mumbai Police' would reach theatres in May 2013.

.