Dileep – Manju Warrier daughter Meenakshi dreams acting in movies

Dileep – Manju Warrier daughter Meenakshi is keenly interested to make her acting debut in movies. Attending a summer vacation camp Meenakshi expressed her interest over acting like her celebrity parents. 13 year old Meenakshi keeps acting and cooking as her favourire hobbies. Hope Meenakshi would be seen on big screen as a heroine just like her mother Manju Warrier.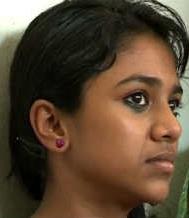 Following the trend of star kids ruling the bollywood film industry, young actors in malayalam are gearing up to show their talent on big screen. As many of the star kids give preference to academics over film, very less had only be seen getting involved in the world of entertainment.

Prithviraj, Indrajith, Fahad Fazil and Dulquar Salman had already proved their mettle shining in the tinsel town following the steps of their celebrity parents. Adding more to the line of star kids come Niranj Sudheerkumar (Manianpilla Raju's son Niranj), Jubil and Unni (sons of the late actor Rajan P Dev) who have already sizzled on silver screen.

But the movie lovers had been asking a question for quite a long time. When will Meenakshi, the daughter of Dileep –Manju Warrier make her tisel town debut? Any way Meenakshi herself had given the answer to the question while attending a summer camp at Kochi. While asked about her interests, Meenaski couldn't hide her interest in acting. 13 year old Meenakshi told that she is keenly looking forward to act in movies like her movie star parents Dileep and Manju Warrier.

Currently studying in 8th standard, Meenakshi has become the star attraction of the one week summer camp organized by 'Prarena' at Edapally. She was enjoying the time with dance, songs and fun along with her friends attending the camp. Even though there are various classes in the camp, young Meenakshi gave her mind to Cooking.

She likes to keep acting and cooking as key interests. But for Meenakshi, acting could be done at a later stage. So the proud parents know the exact time to launch their daughter into movies. So let us wait for a couple more years to see Meenakshi on big screen.

Dileep is a popular actor in malayalam who had been keeping his presence in the industry for the last 2 decades. Manju Warrier his wife, an actress kept her acting talent alive appearing in more than 50 malayalam movies. Known for her extra ordinary talent in dancing and acting she was crowned as the brightest star in Malayalam cinema.


.