3G Third Generation: Youthful entertainer for all generation

3G Third Generation malayalam movie directed by Jayaprakash features John Jacob and Vidya Unni in lead. Arun Narayan, Mehul James, Saikumar, Thilakan, Devan, Irshad Ramu, Geetha, Lena, Kalinga Sasi, Sukumari, Archana, Krishnaprabha forms the rest of the cast. Scripted by C Balachandran, the movie is produced by K.P. Anil Kumar under Tarakarupini Creations. For the lyrics of Madhusudhan Nair, Rafeeque Ahammad and Chandrashekar Engandiyoor, the tunes have been set by Mohan Sithara. Manoj Mundayath has cranked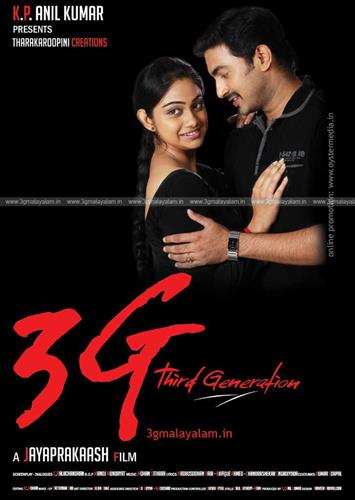 Another youthful movie is gearing up to get released in theatres. Titled '3G', the movie directed by Jayaprakash revolves around the merits and demerits of 3G gadgets and electronic accessories and how they influence the young generation.

Set against the backdrops of young and modern technology, '3G Third Generation' revolves around three youngsters Manu(John), Suresh(Mehul), and John(Arun) who write PSC exams of Sub Inspector of Police post. Even though they were selected, their named got vanished and 3 others who hadn't gone through the physical test got into the list. But they were not ready to bring their mind down. With the help of a veteran ex communist they fought against the system.

After getting justice, they were placed as police officers. Staying in the position, the three youngsters try to bring justice and peace in the society with the help of modern technologies like 3G. During the time the 3 police officers have to face many challenges and persuasions to move through the corrupted way. But being daring and honest police officers, they fight against all evils and corruption with courage.

John Jacob and Vidya Unni are being casted in lead roles. Arun Narayan, Mehul James, Saikumar, Thilakan, Devan, Irshad Ramu, Geetha, Lena, Kalinga Sasi, Sukumari, Archana, Krishnaprabha forms the rest of the cast. Scripted by C Balachandran, the movie is produced by K.P. Anil Kumar under Tarakarupini Creations.

John who had earlier sizzled in movies like Chembada, Drona, Chekavar, Tournament and Dolls will get a chance to prove his mettle as an actor. Arun Narayan who debuted with Indian Rupee and Mehul James who had made his presence in Asuravithu and Cash will be seen in supportive characters along with John. Vidya Unni the younger sister of actress Divya Unni gets a prominent role after debuting in Dr.Love. Tamil director-actor Ravi Maria has donned a powerful character in 3G.

For the lyrics of Madhusudhan Nair, Rafeeque Ahammad and Chandrashekar Engandiyoor, the tunes have been set by Mohan Sithara. Paul Bathery and Momi handle the still photography while Sheik Afsal serves as the Production Controller. Manoj Mundayath has cranked the camera for the movie which is slated to release in May 2013.