Kalimannu malayalam movie release date pegged for August 2013

Kalimannu malayalam movie release date is pegged for August 2013. If you are searching to get information about Kalimannu malayalam movie here the story, synopsis, cast and crew are added. The movie stars Biju Menon and Swetha Menon in key roles with Suhasini, Anupam Kher, B Unnikrishnan and Priyadarshan donning important characters. Kalimannu is directed by Blessy while produced by Thomas Thiruvalla. Set at the backdrops of Mumbai, the movie zooms into the emotional relationship shared between a mother and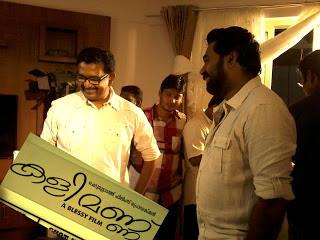 Every time as director Blessy announces his new project, it would hit headlines. But when he publicized his latest venture 'Kalimannu', it not only reached the mass but brought about discussions and controversy.

Inspired by the puranic story of story of Abhimanyu and his mother Subhadra, the movie zooms into the emotional relationship shared between a mother and her child before and after its birth. The story developed into the mind of Blessy while he was making a trip to Dubai.

With a dream to make the story real Blessy consulted actress Shewta Menon, she and her husband Sreevalsan Menon nodded to film the various stages of her pregnancy. For Shewta it would be the best opportunity to make people aware of a mother's sacrifice. As there was no definite scripting pattern used for the movie, the photography had started much before the completion of scripting and casting. As various stages of pregnancy had to be covered, the shooting was carried out in different scheduled which began early from the first week of August.

Shot for many months throughout the pregnancy period, the delivery of Swetha was filmed at the hospital in Mumbai where she was admitted. The crew members of the movie stayed in the hospital and shot the footage which lasted for twenty minutes from the delivery room. Other than Sreevalsan, Blessy and two cinematographers were given prior permission to be present in the labour room.

Swetha Menon was blessed with a baby girl (Sabaina) at Nanavati Hospital in Mumbai. The delivery was shot live on camera as part of the film 'Kalimannu'. Three cameras were placed in the delivery room which was used to capture the delivery. The footages of a natural childbirth will be used in the movie making it the first in the history of Indian Cinema.

Completely shot at the backdrop of Mumbai, the movie features Biju Menon and Swetha Menon in key roles. With the shooting completed the post production works are going on. Suhasini, Anupam Kher, B Unnikrishnan and Priyadarshan are donning important characters in the movie.

For the lyrics of O N V Kurup, the tunes would be set by M Jayachandran. Satheesh Kurup served as the chief cinematographer. Produced by Thomas Thiruvalla, the movie will be released in August 2013 during Onam.