Memory Card - Mohanlal in P Anil's thriller

Memory card malayalam movie preview is given here. Memory Card is an upcoming Malayalam movie directed by P Anil which features Mohanlal in lead. MK Nasar has produced the movie under the banner of Good Line productions. Read more about Memory card malayalam movie here.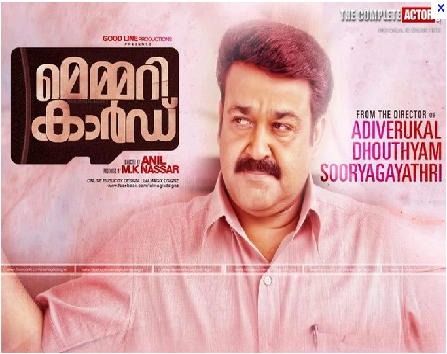 Famous action film maker P Anil teams up with super star Mohanlal for his upcoming venture titled Memory Card. P Anil made his directorial debut in 1986 with the movie 'Adiverukal' starring Mohanlal in lead role. He is popularly known by the name Douthyam Anil. 'Douthyam' is his second Malayalam movie which was released in 1989 which also had Mohanlal donning a prominent character. His other two movies are Surya Gayathri and Gangothri starring Mohanlal and Suresh Gopi respectively.

The successful duo P Anil and Mohanlal will join again for another action thriller which will be an out-and-out action thriller. Mohanlal will play the role of an Ex-Military Intelligence Officer who runs security office in Hyderabad. It is said that apart from Mohanlal famous stars from other Indian movie industry will also be seen in this thriller.

Mohanlal will be having a number of projects including Mr Fraud, Aru Muthal Arupath Vare and Jilla. Mr Fraud will be directed by B Unnikrishnan while Aru Muthal Arupath Vare is a project helmed by Johny Antony for the script of Siby K Thomas and Udaykrishna. Another movie on pipeline would be in tamil titled Jilla with Vijay etc.

MK Nasar has produced the movie Memory Card under the banner Good Line productions. The movie starts rolling from July onwards with location fully set in Hyderabad.