Caarmel Engineering College, Koonamkara, Perunad, Kerala

Caarmel Engineering College, Koonamkara, Perunad, Kerala is one of the best and upcoming colleges on Pathanamthitta. The college provides suitable environment with full facilities and talented faculty for the development of the students in all forms of their life.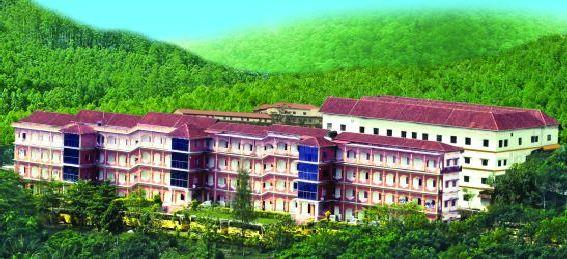 Caarmel Engineering College is an institution of Believers Church; head quartered in Thiruvalla under the Caarmel Educational trust with ISO 9001: 2008 certifications. It is a leading private self financing and a value based co-educational institution located in Koonamkara, with attractive environs of Perunad village of Pathanamthitta, Kerala. The chairman and patron of the college is none other than H.E. Most Rev. Dr. K.P. Yohannan Metropolitan Bishop of Believers Church. Dr. Paul A.J is the principal and its manager is Fr. C.B. Williams. The institution spreads around 100 acres of land with beautiful environment with unpolluted air favour for the better educational desires for the students.


The college is approved by AICTE and affiliated to M.G. University. The campus is an ideal place to learn, transform, enable the students to be bright and much beyond their potential with aspiring minds to dream large heights and achieve it. It is a fully fledged institution that provides full facilities and highly talented faculty for the Engineering as well as the Management students.



The college is aiming to develop some value based students who will be capable of building up a better society through the services in their lifetime. Caarmel has close contacts with some of the major software companies and industries thus assuring best placements for the students. Students usually receive placement cards before they complete their course. A total of 176 students got placement in 2011 and 2012 to great positions with privilege.



Admissions here are strictly based on merit and honor them greatly for their high scores. 50% of the seats will be considered from the Common Entrance conducted by the Government of Kerala. The eligibility for the students is that they have to qualify for the Common Entrance Examination with 50% marks for mathematics and 50% marks for PCM in aggregate. There is consideration for candidates who are O.B.C with 45% marks. Scholarship is given for students who gets 80% marks in aggregate for +2 or if they get a rank under 10000 in Kerala Entrance Examination. Tuition Fee Waiver Schemes are given for 3 seats in each branch and may be filled by Management or Government. Orientation Courses will be given for those students who are craving to get an Engineering degree from 1st-July-2013 and will be provided every year in Caarmel Engineering College.
Facilities
The college provides excellent infrastructures, workshops, modern type laboratories and classrooms with LCD projectors. Library is one of the places in the campus that students love to visit and is digitalized and automated. Highly experienced and qualified faculty here always keeps the students upgrading about the present changes in their respective sectors. Computer labs are fully Air conditioned with more than 50 systems and Wi-Fi facilities. The cloud computing paradigm supports digital campus by TCS-iON. The campus conducts counseling and student mentoring programmes with soft skills and personality development programmes for the students.



To improve communication skills and vocabulary, language labs have been developed. The college not only concentrates on academic performance but tries to make an overall development with sports and cultural activities and mini Stadium with all kinds of sports activities. Placement Assistance is provided as campus has great Tie-ups with many industries. Hostels are provided separately for boys and girls. Within the campus there are Canteen, Gymnasium, Consumer store and also the Communication and Reprographic centers. 18 buses are being run every day for keeping the punctuality of the college.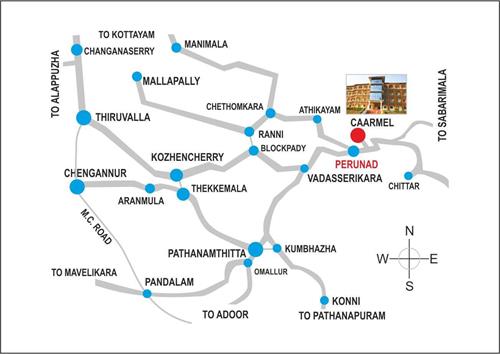 Cources at Kaarmel

B. Tech. Degree Programmes: This is the demanding programme with maximum seats. It includes Civil Engineering, Computer Science and Engineering, Information Technology, Electric and Electronics Engineering, Mechanical Engineering, Electronics and Communication Engineering.


M. Tech. Degree Programmes: Computer Science & Engineering and Communication Engineering is also available for this degree.



MBA Degree Programmes: MBA fulltime post graduate degree programme are provided along with dual specialization in finance, marketing and HRM. It aims in building up a true manager who can provide great benefits to the reputed companies and institutions. Group discussions, Project works, Seminars, Team building games, Social projects voice development exercises, field visits, different activities, group works based on the students interests, etc. all helps in the overall development of the students.
Engineering seats

1) Civil Engineering (60 seats): The Civil Engineering provides great opportunity in order to fulfill the climbing demands of the industry. This branch provides sufficient opportunities for theoretical and practical sessions for the students. Having lots of branches within, it assures better placements as it is an upcoming sector.

2) Computer Science and Engineering (60 seats): This sector is completely filled with more than 50 modern type systems and new generation software. IT experts will conduct technical seminars frequently to buildup more talents through Caarmel.

3) Information Technology (60 seats): This sector is keeping pace with developments that has taken place for IT by past few years. The college always keeps an academic- industry interactions for better placement.

4) Electric and Electronic Engineering (60 seats): The Electric and Electronic Engineering department is a main sector and is famous for its highly talented and creative engineers. This sector is fully equipped with technically prepared modern instruments, generators and higher rating motors for making the students practically skilled.

5) Mechanical Engineering (60 seats): Mechanical Engineering is now the most popular has a high demand. Each year the number of students entering this sector is increasing gradually. The college has complete labs and workshop facilities with highly talented faculty to impart design skills and much more. It offers rewarding career prospects for the students in India as well as abroad.

6) Electronics and Communication Engineering (60 seats): This branch always provides a better platform for the students and can go to any line from this. The college is facilitated with excellent laboratories and all equipments needed for practical and theoretical works. This sector has a worldwide popularity. Talented experts often conduct technical seminars on upcoming major topics.


Address

Caarmel Engineering College, Koonamkara P.O, Ranni – Perunad, Pathanamthitta, Kerala – 689711.
Tel: +91 4735240990/1/2/3
Fax: +91 4735240994
Email: caarmelcollege@yahoo.com / tcp@bccaarmelcollege.org.