Mangalam College of Engineering Ettumanoor, Kottayam, Kerala

Read about Mangalam College of Engineering Ettumanoor, Kottayam, Kerala. Mangalam College of Engineering, Ettumanoor is one of the best Colleges which is approved by AICTE, affiliated to M.G. University and is also an ISO Certified Educational Institution. This College covers a total of 45 acres of land with suitable environment for students.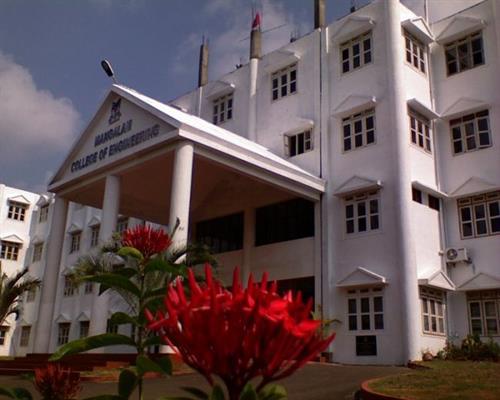 Mangalam College of Engineering, Ettumanoor, is one of the best colleges for its high level of excellence in technical field and quality education with experienced, dedicated and qualified faculty with innovative teaching techniques in order to keep with the MLM's goal of excellence. Dr. N.K. Varghese is the principal of this college. The campus is 10km far from the District Head Quarters It is approved by AICTE, affiliated to M.G. University and an ISO Certified Educational Institution.

MLM is promoted by the 'Mangalam Educational Society' (Management) in order to bring leadership qualities for the new generation. Mangalam Educational Society aims in the betterment in the academic field which is guided by a bunch of talented and eminent people. They organize projects and other developmental programs for the overall development of the students. 'The Mangalam Group of Education' runs under 'Mangalam Educational Society'.

The college digs out the talents of the budding engineers and lets them to improvise it by placing complicated tasks in front of them. This allows the students to become mentally and intellectually shine in their field. Admissions here are strictly on the basis of merit. The College Management selects 50% of the students in which 15% are admitted on the basis of merit for NRIs. The merit lists are prepared by considering both their performance for Physics, Chemistry and Mathematics in 12th, and the 'Kerala Entrance'. Tuition fee is decided by the authorities in charge depending on the request made.

The College has Placement Cell along with Career guidance functioning under the Placement Officers and Consultants and ensures the perfect placement for all students. Mangalam College of Engineering has great links with many top rated companies. Wipro, Infosys, HP, HCL, US Technologies, Birla Soft, Allsec, i-Flex, Huawec, Sutherland, KGISL, TATA Elxi, KEANE, Infotech, IRIDIUM, Exilant Technologies, Slash Support, Ocean Ship Maritime Services, Speridian Technologies, RMPC, Cartier, NeST, Syntel and lots of other companies have picked students from Mangalam.


High Class Facilities

Mangalam College of Engineering covers around 45 acres of land and the College spreads 21749sq.m of this land within it. It provides an eco-friendly environment with great panoramic views around thus helping the students to grasp more.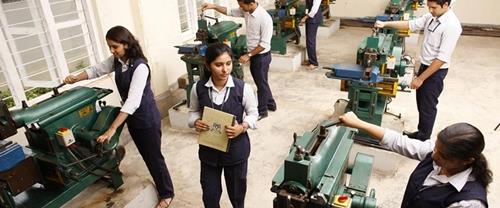 Computer Labs: The College provides modern systems with high speed internet, new software and hardware and wi-fi connectivity. It is moving with the pace of the new technologies and gadgets.


Library: This is the most beautiful place for all those who love to read and become informative. All sorts of books are provided and students can take them for referring whenever they want.


Hostel: Clean, calm, comfortable and well furnished hostel separately built for boys and girls. Mrs. Annie. George is the Warden in charge.


Accommodation capacity for boys is 250 and for girls it is 200. The hostel gives the students a homely feeling when they are away from their parents.


Sports and Games: Mangalam is that College which aims in the overall development. It doesn't become completely perfect without sports. The physical activities including athletics are offered for those students who have a shock in it. This helps in making the students develop as a whole and keeps them fit and healthy.


Other: The Campus provides latest equipments and all what are essential for a department. There is a Fitness center, counseling center and prayer hall. Canteens are available with all the necessary items and are kept always open for all. Transportation facilities along with full measures are arranged for avoiding the stresses of travelling long distances. All these facilities are apt for this proper running of the College.
Engineering Seats
Electronics and Communication
ECE department was started with 60 seats in 2002, in 2004 it increased to 90 but by 2008 due to its high demand and opportunities it rose to 120. The department has great experienced and talented faculty that motivates the students to become the best in society. From 2011 with 18 students, Post Graduate Programmes are held in VLSI. It has air conditioned Laboratories with well furnished modern equipments. VLSI and Embedded Systems allow the students to prove their ability in their field. The laboratory includes 'Keil Micro Version 4 and ARM Cx51 Development tools' & 'Keil ARM Department Board (ARM7 and ARM9). The labs with 36 systems are used as 'MATLAB'.


Mechanical Engineering
ME department is the most popular and high demanded sector. It was started in the year 2004 with B. Tech (60 students) and M. Tech (18 students). In 2012, the college got approval to start another B. Tech batch with 60 seats. 'The Fluid Mechanics and Hydraulic Machines Laboratory' helps the students to study topics like 'fluid kinetics', 'properties of fluid', 'fluid dynamics', 'open channel flow', 'Turbines' and 'Pumps' in depth. 'The metrology and measurement laboratory' is very helpful and can be used to conduct researches in dimensional measures and develop new measurement techniques. The College provides different types of equipments for grinding, tapping, turning, drilling, etc. for this department. There are around 35 computers available with Computer – aided manufacturing (CAM) programmings.


Electrical and Electronics
Electrical and Electronics is a department which is for its highly creative and dedicated engineers. This department was established in 2002 with 60 seats. The major advantage of this sector is that the students can study electrical, electronics and computer related courses in 4th year of B. Tech and can choose any of them as their professional career. The demand for this department is increasing faster than our thoughts. There are laboratories with modern equipments like 'Electronic Measurement Labs', 'Integrated Electronics Lab', 'Power Electronics and Control lab' and 'Electronic Machines Lab'. All these help students to improve to maximum.


Computer Science
As long as the IT field goes on, this field has high opportunities. This department got established in 2002 with a total of 60 seats. All its labs are well furnished with more than 30 systems with latest software like Primavera, Turbo C++, MATLAB, Microsoft Visual Studio, Net Beans, Java, Oracle 10G, Xilinx, and much more.This department also provides some core labs: 'Graphics and Multimedia Labs', 'System Software Lab', 'Networking Lab', 'Hardware Lab', 'Project Lab' and 'Database Management Lab'.


Civil Engineering
CE is an upcoming sector and its demands are rising day by day as India is a developing country. It is related to design, constructions, maintenance of dams, tunnels, bridges, highway etc. The college assures the best placement for this department. Civil Engineering has a lot of branches. They are: 'Geo technical Engineering', 'Transportation Engineering', 'urban planning', 'Structural Engineering', 'Water Resource Engineering', 'Earthquake Engineering' and 'environmental Engineering'.


Information Technology
Introduction of this department has entirely changed the style of the world and is a vast sector. It was established here in 2002 with 60 seats and is now the best established department with advanced labs and all facilities. The College builds the best students needed for IT every year. Web Design Lab, Advance Database Lab, Multimedia Lab, Data Structure Lab, GUI and Database Lab and Data Ware Housing & Mining Lab are the laboratories available which helps the students to acquire maximum.
Address

Mangalam College of Engineering,
Mangalam Hills, Ettumanoor,Kottayam, Kerala.
Pin: 686631
Ph: 0481 2533711, 2533722
Fax: 0481 2533700
Email: mangalam_enggcollege@yahoo.co.in
Website: www.mangalam.net