Salaam Kashmir: Suresh Gopi and Jayaran in lead

Salaam Kashmir malayalam movie directed by Joshiy will have Suresh Gopi and Jayaram in lead. The actors who had shown their onscreen chemistry with Paithirkam and Summer in Bethlahem will be a part of Joshiy's upcoming action movie which has completed the first schedule of its shooting. It's known that Jayaram will sing a duet along with Swetha Menon composed by M Jayachandran.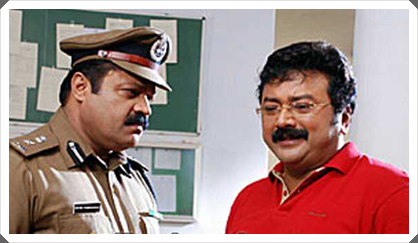 Hit maker Joshiy is back in business with his new action flick which will feature have Suresh Gopi and Jayaram in lead. Titled as 'Kashmir' in the beginning this movie has been re-titled to 'Salaam Kashmir' and the first schedule of has been completed. Jayaram and Sureh Gopi who had shown their onscreen chemistry in Paithirkam, Sibi Malayil's 'Summer in Bethlehem' and Joshiy's 'Twenty 20', will be seen together in 'Salaam Kashmir'.

Suresh Gopi who is currently on US tour will join the team on 12th June. It would be Suresh Gopi's acting venture in malayalam after The King and The Commissioner which was released in 2012. He dons the character role of Tommy Eapen Devassy in the movie which will have Miya as female lead.

Scripted by Seethunath, this mega budget movie is produced by Maha Subair under the banner of Varnachithra. Manoj Pillai will zoom the camera while the music is being handled by M.Jaya Chandran. More interestingly Jayaram will lend his sound for yet another song as he will sing a duet along with Swetha Menon composed by M Jayachandran.

Suresh Gopi who was keeping away from malayalam movies due to his tight schedule working with Shankar's big budget movie 'I' and anchoring Ningalkkum Aakam Kodesshwaran in Asianet. He would be seen in a doctor in 'I' which will have Vikaram and Amy Jackson in lead.

Jayaram is having a good time in his with a number of movies in his kitty. He will be seen in Third Avenue Panampally Nagar, Swapaanam and Nadan. Actress Miya who had made her acting debut with Oru Small Family has already become a busy bee with a long line of movies to get completed in 2013. Her upcoming projects are Memories, Ettekal Second, 6B Paradise and Nayana.

Joshiy one of the senior most directors in malayalam who had created wonders with his movie will deliver a majestic movie which would surely be a visual treat for movie enthusiasts.