Malayalam movie releases in June 2013

Malayalam movie releases in June 2013 with release date, preview, story and full details are given here. ABCD, Left Right Left, Thank You, Anju Sundarikal are set for release in June 2013. Go through this article to know the complete detail about each movie which will give an insight about it.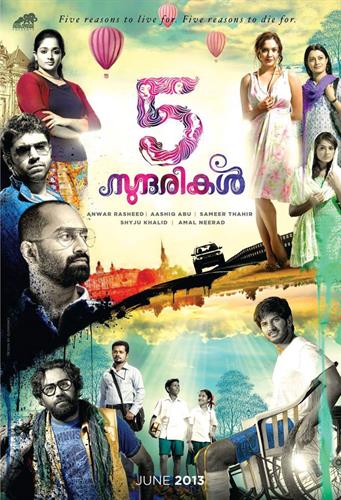 With many projects currently under production stage, quite a few movies are getting released in June 2013. Even though there had been a tremendous increase in the number of releases in malayalam movies, the quality of many of them are still questioned. The malayalam movie lovers would accept those themes which offer something special for them.

Abhiyum Njanum, Honey Bee, Pigman and Teens were the movies which were released in the first week of June. As it reach the second week, it the turn of four biggies to entertain the audience.


Left Right Left

Left Right Left directed by Arun Kumar Aravind will feature Indrajith, Murali Gopy, Hareesh Peradi, Lena, Remya Nambeeshan, Anusree, Sethulakshmi, Mamukkoya, Vijayaraghavan, Byju, Suraj Venjaramoodu and Saiju Kurup. As like their previous venture Ee Adutha Kaalathu, this is also touted one of the most expected movie in 2013. Scripted by Murali Gopy, 'Left Right Left' is set in three periods – the 60's/70's, 80's/90's and the present too. Shot at various locations in Thiruvanthapuram, Nagarcoil and Hyderabad, the movie will be unique of its kind. This movie is set for release on 14th June 2013.


ABCD: American Born Confused Desi

ABCD (Amercian Born Confused Desi) directed by Martin Prakkat will feature Dulquer Salmaan, Jacob Gregory and Aparna Gopinath in lead. Written by Sooraj-Neeraj, this movie is produced by Shibu Thammens under the banner Thammens Films. Young cinematographer Jomon.T.John stayed behind the camera while the music has been composed by Gopi Sunder. ABCD tells the tale of two young American Malayalees journey to Kerala. Vijayraghavan, Lalu Alex, Tovino Thomas, Thampi Antony and Savannah Schechter will give life to other characters in the movie. The main attraction of ABCD would be the song sung by Dulquer Salmaan. This movie will be released on 14th June.


Thank You

Thank You directed by V.K Prakash starring Jayasurya, Honey Rose, Sethu, Tini Tom, Mukundan, Aishwarya Devan, Mridul and Saiju Kurup. Written by Arun Lal, Thank You is produced by Shaul Hameed Marikar under the banner of Marikar Films. This movie is blessed with the tunes set by Bijibal while the cinematography is handled by Aravind Krishna. It is themed around a person who reaches Thiruvanathapuram and makes a ride through the city in an Auto Rickshaw. The current socio-political system which is based on the violence against women is being reflected here.


Anju Sundarikal

Anju Sundarikal is a romantic anthology which is wrapped with five short stories on love centered on five types of women - mother, daughter, lover, wife and actress. Anwar Rasheed, Aashiq Abu, Sameer Thahir, Shyju Khalid and Amal Neerad would don each short story while Kavya Madhavan, Isha Sharvani, Rima Kallingal and Reenu Mathews would be seen as lead characters. 'Aami', Esha, Gowry, Kallante Bharya and Sethulakshmi are the short films. Anju Sundarikal is set to get released on 20th June.