Sreesanth in 'Big Picture', a romantic malayalam movie

Big Picture Malayalam movie - Is Sreesanth the hero? The Indian cricket team bowler, Sreesanth who has lost chance to act in film after the spot fixing controversy is now all set to come back through the latest movie 'Big Picture' directed by Balachandrakumar. Read more about Sreesanth's latest movie updates here.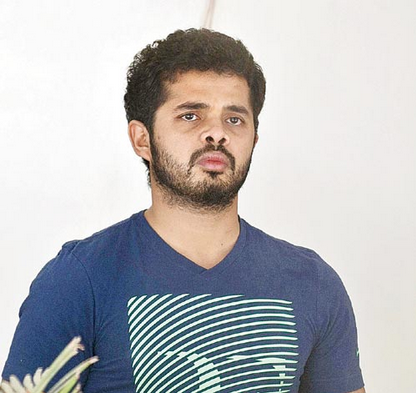 Sreesanth who is well known for his excellent performance with the cricket ball for team India is now all set to make his come back through a Malayalam movie. Latest reports says that the hero who turned zero after the allegation of spot fixing in IPL 2013 is now preparing to act in a Malayalam movie. After getting bail from Delhi High court for the spot fixing in IPL 2013, he is now residing in his home town with his family. It is known that Sreesanth is all set to marry his girl friend during Onam or soon afterwards.

Is Sreesanth really going to act in the movie? It will be a tough question for everyone. If the media news is true, the cricketer Sreesanth will be acting in the upcoming Malayalam movie 'Big Picture' previously named as 'Made in India'. It is said that Sreesanth will be coming up as the hero in this movie directed by Balachandrakumar.

After making Sreesanth as villain in the spot fixing controversy in last couple of weeks, now media especially Kerala medias has changed their tune and is making him a hero again. He has got bail after the allegation against him can't be proved by the prosecution clearly in front of the court. However he got suspension from Indian cricket team based on the spot fixing allegation against him.

Sreesanth has lost chance to act in Malayalam movie 'Mazhavillinattamvare' directed by Kaithapram Damodaran Namboothiripad based on the denunciation against him. He was also removed from Kerala Govt Karunya Lottery ad during his jail term. Many contractors have stopped their ad contract with him after he got charged in IPL spot fixing 2013.

Now, the new Malayalam movie, 'Big Picture' directed by Balachandrakumar is giving an opportunity to Sreesanth for a strong come back. He has been selected as the hero for the movie 'Big Picture' being directed by Balachandrakumar. It is said that the director who had earlier made Cowboy features Asif Ali in lead role will write the story, screen play and script of the malayalam movie Big Picture. According to director Prakash Raj and Prabhu Deva have also agreed to be part of this film in significant roles. The shooting of the movie will start rolling on mid of August. Shooting of this big budget movie will take place in England and Dubai. Popular director Berny Ignatius will handle the music for the movie 'Big Picture'. The movie will be produced under a new company; information about them is also behind the curtain. The movie Big Picture will plans to made in Tamil and Malayalam.

There is no information about the story and theme of the movie 'Big Picture'. However it depends on Sreesanth words after coming out of jail, the movie will portray his experience in jails and how he was trapped in the case.

Sreesanth has started cricket training and hopes to come back soon to Indian cricket team. He has tweeted today that things go well and has mentioned thanks for all support. But he didn't say anything about the plan of acting in Malayalam movie as hero. Let's wait to know whether the news is real or not. It is sure that the media will discuss about Sreesanth's come back as a Malayalam movie hero in coming days. We can wait for the real news about the film updates of cricket player Sreesanth.