Lucifer - Mohanlal's 2014 release directed by Rajesh Pillai

Lucifer' is the upcoming Malayalam movie of Mohanlal. The actor is teaming up with the director Rajesh Pillai and script writer Muraly Gopi for 'Lucifer' wihch will be a pure entertainer. It will start rolling from 2014 January and will be a festival Malayalam release for Mohanlal. Read this article to know more about Mohanlal's Malayalam movie 'Lucifer'.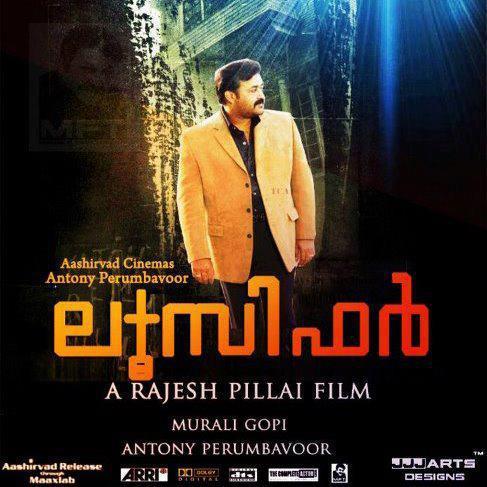 'Lucifer' is the upcoming Malayalam movie from Mohanlal -Rajesh Pillai team. It has been a great news for the film fraternity and to the fans of the actor, that he is joining hands with 'Traffic' fame director Rajesh Pillai along with script writer Muraly Gopi. Everybody expects nothing less than a super hit from this combination of Mohanlal, Rajesh Pillai and Muraly Gopi. Other details regarding 'Lucifer' like story, heroine etc. are not disclosed by the director yet.

It was Rajesh Pillai's 'Traffic' that gave the fresh breeze we are witnessing nowadays in the Malayalam movie world. 'Traffic' with its story and narration and freshness was accepted positively. The director is now busy with the project 'Motorcycle Diaries'. The shooting of 'Lucifer' will start only after this film is done. The director has said that 'Lucifer' will start rolling in January next year.

When asked about the story of 'Lucifer' the director of 'Lucifer' said, "I can't reveal more details about the subject of the film now, except that it will be a thriller. The story is done, but the scripting is not over".
Muraly Gopi is penning the script for the movie. He is becoming one of the best script writers around the time with his latest hits like 'Left Right Left', 'Ee Adutha Kalath' etc. Son of great actor Bharath Gopi, has admitted the fact that penning a script for Mohanlal is a difficult task

Rajsh Pillai, a hardcore fan of Mohanlal, has said that movie 'Lucifer' will be a complete entertainer from his team. It has been very long that a Mohanlal movie has come up with full of entertainment. Hope 'Lucifer' will be one such movie for the fans to cheer about. Mohanlal is currently in the set of the Tamil film 'Jilla' with Vijay.

Muraly Gopi will be doing an important role in the movie along with Mohanlal. It was reported earlier that Kunchacko Boban would also be seen in 'Lucifer'. But no further announcements on this is done by the director. Other cast including the heroine has to be decided later. Antony Perumbavoor will produce the movie 'Lucifer' under the banner of Ashirvad Cinemas and it will be a big festival release movie from Mohanlal.

The director had also announced another movie titled 'Gold' with Mohanlal before this project. But it will be 'Lucifer' that starts rolling first.