Mar Athanasios College for Advanced Studies (MACFAST)Thiruvalla, Kerala - Courses and Details

Mar Athanasios College for Advanced Studies Thiruvalla (MACFAST) is a college in Kerala which was established in the year 2001. MACFAST is approved by the 'All India Council for Technical Education' (AICTE), New Delhi, India and is affiliated to 'Mahatma Gandhi University', Kottayam. This article reveals about MACFAST , Thiruvalla.


Introduction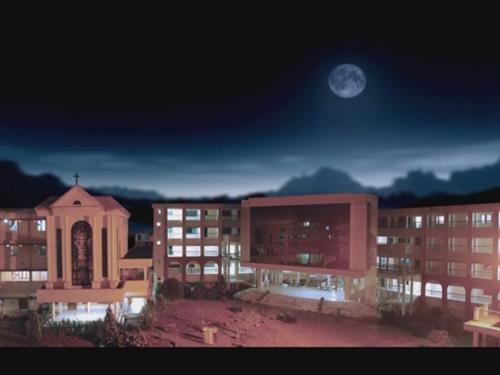 Mar Athanasios College for Advanced Studies Thiruvalla (MACFAST) is a college in Kerala which was established in the year 2001. MACFAST is approved by the 'All India Council for Technical Education' (AICTE), New Delhi, India and is affiliated to 'Mahatma Gandhi University', Kottayam. It is a popular and growing institution which offers IT, Business Management and Bioscience as their major courses. It is located in Thiruvalla, Kerala with very beautiful and scenic views spread all around the campus. The calmness and natural beauty which the campus provides is a perfect plus point for the academic development of the students. 'The Corporate Educational Agency' of the catholic archdiocese of Thiruvalla owns and manages this institution which is spread over an area of 3, 00,000 sq. ft. MACFAST has two campuses which include a main campus for MCA an MBA programs, while the Bio-campus for the M.Sc.Bioscience program.

In 2008, a journal named 'Journal of Science, Technology and Management' (JSTM) was established. The entire management of MACFAST rests in talented and fine set of groups which include Rev. Dr. Abraham Mulamoottil – Principal, Rev. Fr. Pradeep Vazhatharamalayil – Vice Principal and manager and Mr. Christy Bastian – Administrator. The high-tech infrastructure in the technical department is considered to be the backbone of this institution. They not just concentrate in the academic developments of the students but desires to build up some unique and talented personalities among others and a right attitude towards the career they choose. MACFAST Center for Research and Development (MCRD) has recently started to plant some researching and thinking skills for students in order to compete with this fast developing world.


Campus Facilities
Hostel Facilities
Separate hostels are provided for men and women by the college with full facilities they need. Students will definitely have a homely feeling here under the supervision of Rev. Sisters and Rev. Fathers. These students can extend their time to utilize lab and library facilities so as to get maximum outcome. Every room are well developed, well furnished and has wide space with affordable rents.


Computer labs
The college has large computer labs with sufficient computers having all necessary software and internet facilities. They also have network labs, silicon graphics workstation, 2 Mbps leased line internet connection and microprocessor lab within the campus. All the computer labs are kept open 24x7 for the students so that they can access to all necessary information through internet. More than that, the campus provides Wi-Fi facility for the students so that they can access internet for free while they are in their rooms.


Library and reading rooms
The college library is the perfect place to grasp extra knowledge of different branches including Computer Science, Business, Biosciences fields, Industry etc. for students. Students can take whatever books they need at any time. Reading rooms are their favorite place its calm and silent atmosphere drives them to the world of books. More than that, all the information of the library can be checked in detail from the college website. The library will be kept open from 8:00 AM to 10:00 PM for students.


Language Lab
The major problem faced by all students these days is their poor communication skill. They may be vey brilliant in academic level but big companies give more preference to this skill. Thus many students fail to get good placements. Latin is also taught for students who do researches and masters in Bioscience.


Other facilities
A bank will be kept open for students and staff members for two hours every day. College always supports the physical fitness of students by participating them in tennis, volley ball, badminton and basketball. College buses are available for the transportation to and from MACFAST in time. Air conditioned seminar and conference halls are available in the campus. Mother Theresa chapel and meditation hall is provided for the students to be religiously in touch. Other than these facilities, Bioscience lab, herbarium museum, video conferencing, herbal garden, food court etc. are also available here.


Course offered in MACFAST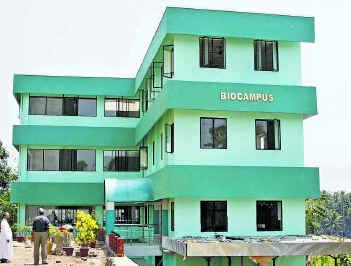 1) Master of Business Administration (MBA)
MBA is an important program in MACFAST with a total of 120 seats. It takes a total of two years (4 semesters) to complete it and to build up a committed professional role for our society. MACFAST concentrates on how much they could give to the students in addition to become the best in future. Their theories are based on the syllabus prepared by the M.G. University. The students are given good training by doing summer projects, market survey, leadership camps, event management meets, clubs for personality developments etc. The college admission for MBA is strictly based on merit and need at least 50% mark in aggregate for all their degree examinations to become eligible. There is consideration for those students who are under reservations. Providing urban amenities in rural areas, small business consultancy, establishment of Al-Fund and consultancy for SERIFED are some of the major projects done in this department.


2) Master of Computer Application (MCA)
MCA is an important department with a lot of scope. It takes three years to complete and the college has a total of 60 seats for MCA. It has AICTE approval and M.G. University affiliation like all other courses. The students of this department get advanced trainings so as to make them aware of current developments in technology. College provides full facilities to extract the best from students and has highly talented and friendly faculties. To become eligible for this course, students should have passed in bachelor's degree with 10 + 2 level mathematics or passed BCA degree or passed bachelors degree with mathematics or statics as one subject and these courses should be passed within a minimum of three years. Network Traffic Graphical Display and Control Tools, Enterprises Resource Database, MACFAST Malayalam Keyboard Interface etc are some of the major projects done in this department.


3) M.Sc. Phytomedical Science and Technology
This course deals with research and development, management of medical and aromatic plants (MAPS) and also contributes a lot for the development of a healthy society. Industrial, agricultural, environmental and other important sectors include in course which boosts the opportunities and scope for students. It takes a total of 4 semesters to complete it. To become eligible for this course, a student should have B.sc. degree in biological science which includes Environmental Science, Biotechnology, Agriculture, Zoology, Microbiology, Botany, Applied Botany, and Biochemistry or a degree equal to this which has proper affiliation of M.G. University. Students must also have a minimum of 55% in aggregate as well as for group subjects. Selections are made based on entrance examination.


4) M.Sc. Bioinformatics
Bioinformatics is a branch which has a great scope in research, science and IT departments. This field also deals with the management of data, to manipulate it well and takes a major part in interpreting things as well. Students should have a basic degree in Zoology, Biochemistry, Botany, Computer Science, Computer Application, Biophysics, Biotechnology, Chemistry, Plant Biotechnology, Mathematics, Physics, Electronics, Environmental Science, Statistics and Microbiology with 55% marks in aggregate to be eligible for this course. Selections for this course are strictly based on merit and and their respective entrance examination.


5) M.Sc. Plant Biotechnology
Kerala saw its first PG course as M.Sc. Plant Biotechnology emerging from MACFAST in the year 2003. There is great scope for this sector and has grown rapidly throughout years. It deals with tissue culture and plant genetic engineering in order to produce new variety of plants. In tissue culture, different types of tissues are fused to produce a new plant having superior qualities like peat and disease resistance with high yielding capability or high protein content with good resistance to external conditions etc. The plant genetic engineering deals with recombination of DNA and its researches. To become eligible for this course, students should have degree for Agricultural Science with Botany as subsidiary or main subject with an aggregate of 55% mark at graduate level of M.G. University.


6) M.Sc. Food Science and Technology
This is a great field with full scope as India crowns the second position in the production of food. Thus about 26% of India's total GDP comes from this sector. There are lots of companies working in and out with top salaries in food production. The college trains the students to make different food production which is very useful, tasty and healthy for humans. To become eligible for this course, students should have at least 55% marks in aggregate having M.G. University affiliation and should have a degree in science or engineering for any of the subjects which include Zoology, Nutrition, Microbiology, Food Technology, Physics, Chemistry, Food Science, Home Science, Botany or Biochemistry.


7) M.Sc. Biochemistry
To complete Biochemistry a student should have a good base in Chemistry as it deals mainly with chemical basis of life. It is also related with medicines and is necessary to go in depth for molecular genetics. This is also needed for pharmacy, pharmacology, and many other medical related works. To become eligible for this course, students should have an aggregate of 55% marks for degree Biological Science subjects having M.G. University approval.
As a whole MACFAST is a great institution which works for the betterment of society and to make their students be useful for others through their works.


Address
Mar Athanasios College of Advanced Studies (MACFAST) BIOCAMPUS
Thiruvalla, Kerala, India. Pin – 689101.
Email: macfast@macfast.org, principa@macfast.org
Website: www.macfast.org, www.macfast.ac.in