Onnum Mindathe malayalam movie: Jayaram to pair Meera Jasmine

Onnum Mindathe malayalam movie to be directed by Sugeeth will have Jayaram and Meera Jasmine in lead. Sugeeth debuted with 'Ordinary' in 2012 and rose to popularity with this movie which smashed all records and had become a blockbuster. After '3 Dots' the film maker is gearing up to helm his next project which tells the tale of a middle class couple zoomed at the backdrops of a village. The movie will go on floor in November.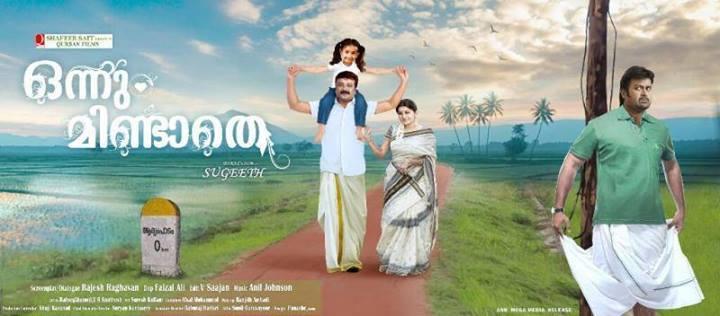 Young film maker Sugeeth made his dream come true with his directorial debut 'Ordinary' which changed the fate of his life. After delivering an extraordinary hit, Sugeeth is gearing up for his third venture, this time teaming up with Jayaram. Titled 'Onnum Mindathe', the movie tells the tale of a middle class couple zoomed at the backdrops of a village.

Sugeeth who is better known for cleverly sketching out the bucolic and self-effacing themes connected with human lives. As with his previous ventures, 'Onnum Mindathe' will be a family entertainer coupled with an interesting story which zooms into the life of a middle-class couple who have their own 'small big dreams as like others family.

The intense relationship and unexpected events to be followed forms the crux of the story. From the words of the director, the story will follow simple line with no exaggerated ruffles and fancies. The interesting tagline 'Love after Marriage' can be connected with the life of any couple.
During their life journey, the couple reaches a deeper understanding at a juncture which takes the story to the next phase. Jayaram plays the role of an agriculture officer who lives happily with his wife and 6 year old kid. Meera Jasmine would don the lead lady who would be getting enough space to mesmerize the audience with her lovely character.

Sugeeth wishes to tag 'Onnum Mindathe' as a family oriented realistic movie which could be enjoyed by the audience who could even connect with their life too. Sugeeth is excited to team up with Jayaram as it is for the first time. Scripted by Rajesh Ragavan, the story of the movie is set under a simple village life with down-to-earth and honest characters.

The camera is being cranked by Faizal Ali who had earlier worked with Sugeeth for 'Ordinary'. For the lyrics of Rafeeq Ahammed, the music is being composed by Anil Johnson. 'Onnum Mindathe' will be produced by Shafeer Sait under the banner Qurban Films. The movie would start rolling from November at Thrissur and is expected to reach theatres by the end of January 2014.