Khilafat malayalam movie: A real life situation on reel

Khilafat malayalam movie directed by Gifrey Jaleel will have Manoj K Jayan, and Bhama in lead. Anirudh, K R Vijaya, Jagathy Sreekumar, Janardhanan, Vinu Mohan, Zarina Wahab, Praveena, Baiju, Shobhamohan and Suraj Venjaramoodu will give life to other prominent characters in the movie. The movie is an adaptation of P Valsala's novel Vilaapam.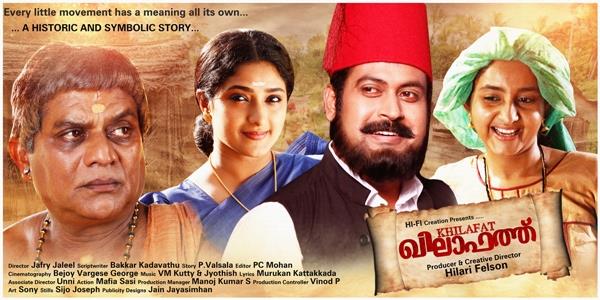 There had been a number of historical movies made in malayalam which which has deep connection with the people and period of Kerala. Marthanda Varma was such a movie followed by Thacholi Ambu, Padayottam, Vadakkan Veeragadha and Pazhassiraja. These movies received grand reception from the masses who had given positive response to the hard work given by the film makers.

Now yet another movie has finished the final work and is waiting for its release. Debutant Jifry Jaleel has given a magical touch to P Valasala's symbolic historic novel 'Vilapam'. The movie is set against the backdrop of the Khilafat movement happened in the second decade of the 20th century.

Even though a movie titled '1921' dealt with the same theme,Khilafat pools into the role of the Indian National Congress against the backdrop of the movement.

The story of 'Khilafat' is unveiled in a flashback through the eyes of two old men who had witness the Babri Masjid demolition and recollect the chaotic days of the Khilafat movement during their childhood. Malabar was widespread with the spirit of revolution before the 1920s. During the time, the relation between landlords and their tenants worsened day by day.

Hindu and Muslim landlords were supported by the ruling British killed the tenants. Those people who become a part of the rebellion were either killed or deported. During the time the Congress party emerged onto the scene which motivated the Hindus and Muslims to join hands in the Khilafat movement which took momentum later.

As the landlords and the British tried all ways to crush the revolt, the Muslim youth resorted to violence keeping away Gandhiji's principle of ahimsa. Saiju Kurup dons the role of Congressman Gangan while Zareena Wahab plays the character role of a leader who keeps close relationship with the tenants. Manoj K Jayan plays Abdul Rahman and Vinu Mohan plays a character as a victim of the fanatic teachings of religious scholars.

Bhama, Muktha, Jagathy Sreekumar, K R Vijaya, Janardhanan, Praveena, Baiju, Shobham Mohan and Suraj Venjaramoodu gives life to other prominent characters in the movie. Bakkar Kadavathu has written the screenplay and dialogues for this movie. For the lyrics of Murukan Kattakada, the tunes have been set by V M Kutty & Jyoshish. The movie will have Hindi, English and Arabic songs.

With the final cut, 'Khilafat' would reach theaters soon.