Silence malayalam movie: Mammootty's surprise for this Christmas

Silence malayalam movie directed by V K Prakash is having megastar Mammootty and Pallavi Chandran in lead. Mammootty will essay the role of an advocate in this movie. The actor has adorned the role of an advocate in his real life too. Young actor Anoop Menon will also be seen in a prominent role. After the final cut, 'Silence ' would reach theatres as Christmas release.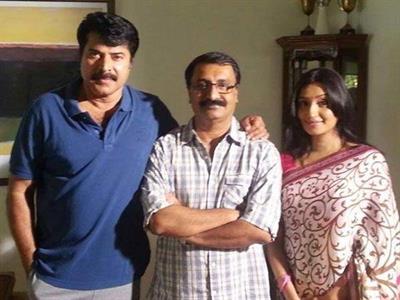 Megastar Mammootty is riding high with back to back hits. He was seen as a dramatist in Daivathinte Swantham Cleetus which was truly accepted by movie lovers in Kerala. His next in line for release would be V K Prakash's project. Titled 'Silence', the shooting of the movie was completed recently. Earlier titled 'Judgement' and 'Ithu Veroral', the movie got renamed as 'Silence'.

Mammootty has donned the role of an advocate in various movies including Narasimham and Twenty Twenty. Much interestingly, the actor has undertaken the role of an advocate in his real life too. A new actress is making her debut in malayalam through 'Silence'.

Pallavi Chandran who is much popular among the TV viewers through her acting brilliance in various serials is being casted as the heroine in the movie. Pallavi is entertaining the TV audience through the role of Madhubala's mother in the serial Madhubala which is being telecasted on Colors channel.

It had been a dream come true for actress Pallvai who still has not walk up from the dream of excitement. Speaking to media, Pallvai has shared her happiness for starting her big screen debut opposite Mammootty. Young blood Anoop Menon will also be seen in a prominent role in the movie who has thrilled the movie lovers being a screenplay writer and actor.

Meanwhile V K Prakash has completed the shooting of his previous flick 'Mazhaneerthullikal' in record time. 'Silence' would also mark a true beginning of a new team – V K Prakash and Mammootty. Scripted by YV Rajesh, the story of 'Silence' pools into the life of Aravind which is played by Mammootty. He essays the role of an advocate who later gets promoted to the position of a judge. Life gets changed as Aravind gets new position. How his family cope up with the new life forms the root of the movie.

Mammooty is currently busy with the shooting of Pramod Payyannur's Balakalasakhi at the streets of Kolkata. 'Silence' would reach theatres during this Christmas along with Mohanlal's 'Drishyam', 'Ezhu Sundhara Rathrikal', 'One by Two' and 'Salala Mobiles'. So get ready to enjoy the visual treat which is being offered by V K Prakash and Mammootty.