Pankajakasthuri College of Engineering and Technology (PKCET), Kandala, Trivandrum

Pankajakasthuri College of Engineering and Technology (PKCET) is one of the new emerging colleges in Kerala situated in the serene and lush green village of Maranalloor at Kandala, 18km South East of Trivandrum. Read this article to know more about Pankajakasthuri College of Engineering and Technology (PKCET).


About Pankajakasthuri College of Engineering and Technology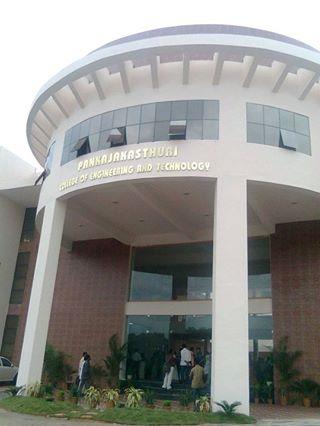 Pankajakasthuri College of Engineering and Technology (PKCET) is one of the new emerging colleges in Kerala situated in the serene and lush green village of Maranalloor at Kandala, 18km South East of Trivandrum. The college campus spreads over 12 acres of land with a calm and quiet surroundings. This college has been promoted by Pankajakasthuri Herbal Research Foundation which has obtained deep roots in the society and a world wide reputation. This engineering college is administered by its founder chairman 'Shri J Mahendran Nair', who brought up the 1st self financing Ayurvedic Medical college in this state seven years ago.

The institite is blessed with highly qualified faculties, top of the notch infrastructure and several other facilities. PKCET campus which mainly highlight on the eco-friendly environment is situated near Balaramapuram/Neyyattinkara state highway. 'Shri. J. Mahendran Nair' - chairman, 'P V Govindan Potti' - principal, and 'Mohan Nair' being the registrar are in the board of directors of the college.

The college aims not only in the academic excellence but also on the overall development of students through career development, character building and a disciplined life style. The main aim of the college is to build a prosperous India through brighter youngsters. The college gives various opportunities for the students to develop different skills in them.

Pankajakasthuri college of Engineering and Technology (PKCET), Trivandrum and Siemens India (p) Ltd., have entered into alliance so as to set up different facilities in the college campus, PLM laboratory being one among the many promised facilities. The agreement is expected to give flying results to the college. The college is expected to position itself on par with leading International Institution in the country and empower the institute to access PLM software package such as CAD, manufacturing and engineering and many more.


Admission to PKCET
Candidates who are availing for B-Tech degree course shall be required to have passed Higher Secondary Examination of Kerala, CBSE, KSE, 12th standard VHSE or any other examination accepted by the university equivalent to these. Enrolling students should have a minimum of 50% aggregate. Minimum age of the applicant must not be below 17 and there is no upper limit for age. Admission will be done both on merit and management based.


Placements at PKCET
The Placements Cell at Pankajakasthuri college Engineering and Technology offers a wide variety of off campus placements, that allow students to actively participate in different interviews and help them in getting a good job. The college also provides enough and more training to make the students fit for such interviews. These placements apart from providing a promising job, it also takes the student's confidence level to a greater heights. This gives students a good exposure of the real competition that exists in the world.


Facilities at PKCET
1)Central library
Pankajakasthuri College of Engineering and Technology has a state of the art collection of books and study materials including journals, articles and many national news papers. It has got a wide variety of books of both national and international authors. Students can refer the text in the library for their college studies. The library is open from 8:00am to 5:00pm. Library is well lit and sufficiently ventilated from all four sides that provide a cool and calm environment for students to sit and read. Students can also issue books from the library when they require and should return back within the allotted failing do so may lead to fines which increase day by day till you return the book. PKCET library has good collection of books covering all the topics in engineering so that it will be easy for students to learn from them.

2)WiFi Campus
PKCET believes in modern ways of education by the means of internet. So PKCET provides a WiFi campus so that students can download e-books, journals, refer to different topics and all. At the same the college knows what is good and what is evil for students, so it has blocked the sites that are of no use to students. PKCET aims at overall development of young minds in right direction.

3)Computer centers


PKCET has a top class computer center with computer to student ratio of 1:2 which is even better than AICTE requirement that is 1:4. All the computers are well maintained and new ones. And students are allowed to use these facilities at any time before, during or after the class hours.

4)Stationary Store
PKCET provides all necessary items to the students in the campus itself through stationary store. PKCET has a fully fledged and functional stationary store that provides students with books, text, notebooks, drafters, instrument box, calculators ect. at minimal rates.

5)Canteen
PKCET has a fully fledged canteen with top class food and utmost cleanliness. Food prepared here is of home made quality. The canteen provides breakfast, lunch, snacks with utmost care and in the most hygienic way possible.

6)Hostels
PKCET has state of the art hostels for both boys and girls at a walking distance to the college in the campus itself. The hostels are under the supervision of wardens. The hostels are well maintained and clean. There is a supply of water round the clock and the hostel has mess facility to provide delicious food for the students. Toilets and bathroom are regularly cleaned and maintained in a hygienic manner. So as to prevent any uneasiness to students.


Departments present in PKCET
1)Civil Engineering Department
The department of civil engineering is one of the core branches of PKCET. This department offers four years (eight semesters) degree courses in Civil Engineering. The number of seats allotted for this department in PKCET is sixty. This department is blessed with some of the prominent figures in the field of teaching like Dr. A. Komalavalli Amma, who also happens to be the director of the college, she was selected among the top thousand great women of 21st century for her dedication and commitment to the community. She was also recognised as 'eminent engineer in the water resources sector' on world water day celebration 2011. The HOD of the department is Prof. M Jayakumar. The laboratory facility along with the equipment are of top class and a dedicated team of teachers are always there to help guide the way for students.

2)Mechanical Engineering Department
Mechanical engineering is one of the core branches of B-Tech engineering. PKCET provides mechanical engineering along with three other courses. This branch has a team of well coordinated, hard working and charismatic group of vibrant teachers who are dedicated towards students. This department has top class workshops for all the years and has a good amount of staff to guide the students through. Head of the department is S.Chidambaram.

3)Electrical and Electronics Department
This is one of the foundation department of PKCET and has 60 seats in whole. This department offers four year course with a total of eight semester. The department is bestowed with highly qualified , experienced and proficient teaching staff. The electrical and electronics lab are well maintained and are 100 percent safe and is controlled by an experienced staff. The bond between students and teachers are very deep providing rightful pattern for utmost learning and understanding. The head of the department is C Moses Alvin.

4)Electronics and Communication Department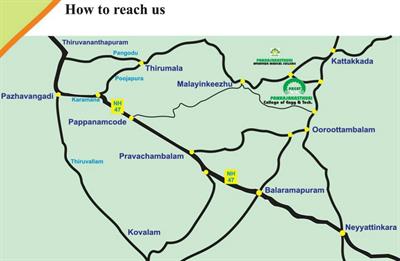 The main objectives of this department include 100% placement for the passing students, to become a technological hub in education sector, enhance the level of confidence in minds of students, empower academic as well as co curricular activities. There is a total of 60 seats allotted for electronics and Communication department. This department provides the best infrastructure to the students. It provides an experience that will help students to come up in life face challenges and to leave a mark for themselves in the world.


Contact Address
Pankajakasthuri College of Engineering and Technology,
Kandala, Trivandrum-695 512.
Phone
College Ph: 0471 - 2297 500, 600
Fax: 0471-2297701
Helpline: 93872 24227