Latest Onam 2014 Pookalam Designs for Schools, Colleges and Offices

Latest Onam 2014 pookalam designs for competitions in Schools, Colleges and Offices are given here. Onam is the harvest festival for all Keralites, Thoruonam is observed in the month of Chingamand marks the comemoration of Vamana avtar of Lord Vishnu and the homecoming of mystical king Mahabali


Onam is the harvest festival for all Keralites, Thiruonam is observed in the month of Chingamand marks the comemoration of Vamana avtar of Lord Vishnu and the homecoming of mystical king Mahabali. This is a festival celebrated by the masses without the difference of cast or creed. Mahabali reign is considered as the golden era of Kerala. According to the mythology, Mahabali was the greatest and most prosperous King of all times and he was even looked down by Devas and they thought that if he continued to rule like this then even the position of Devendra will be in trouble because of him. This matter was brought into the notice of Lord Vishnu who promised to look into the matter and incarnated the avtar of Vamana.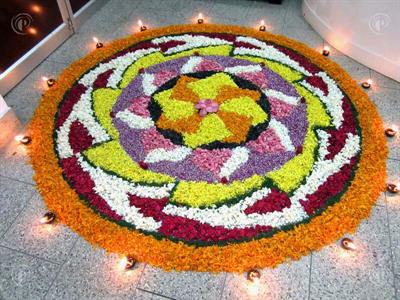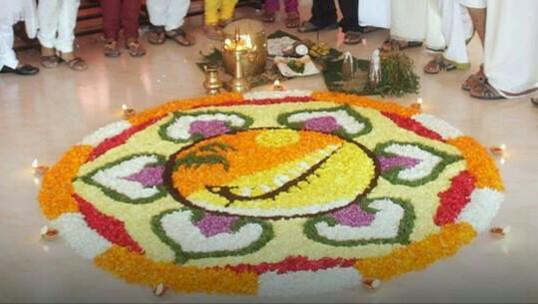 King Mahabali was a very generous man and always did everything possible for the poor and needy, so when Vamana asked him for three footage of land then King Mahabali agreed to it then Vamana took his original form of Thrivikraman – Maha Vishnu and measured the whole of fourteen worlds with his two steps and requested Mahabali to give space for the third step. Mahabali, having understood who Vamana was, stood on knees in front of him and requested to place his third foot on his head.

Vamana did so and pushed Mahabali into Pathalam, thereby brought an end to his rule. But before this Mahabali requested Lord Vishnu to let him visit his peoples in an yearly basis, and his arrival is commemorated as Onam. Flower carpet or Onam pookalam is the major attractions of the festival Onam, In the 10 day long festival people arrange pookalams in their courtyards and in professional groups.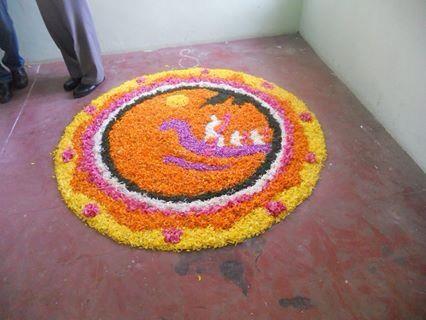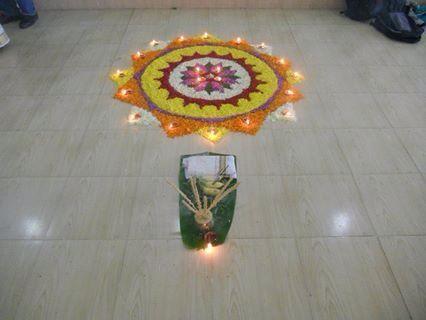 Pookalan competition is the most sort to event during the Onam celebration. The pookalam competition is one of the major event during celebration of onam all throughout. Flower carpet competition is conducted with great zeal and charisma in schools and colleges and the participants consider it as a matter of prestige. Now a days we find a wide range of designs for pookalams. Here are some pookalam designs that can be used in our schools colleges and homes, and theses could be easily made.