Top Onam 2014 Floral Carpet Designs

Top Onam 2014 Floral Carpet Designs are given here. Onam, the most celebrated and coveted state festival of Kerala and people are eagerly waiting to celebrate Onam in grand style this year. Read this article to know more about the Top Onam 2014 Floral Carpet Designs.


Its time for Onam, the most celebrated and coveted state festival of Kerala and people are eagerly waiting to celebrate Onam in grand style this year. Many new innovative and fascinating stuffs are being conducted every year to bring more spark to the festival. Floral carpet competition is one among them which could gather much attraction and colour to the Onam eve. Onam 2014 brings a bunch of top floral carpet designs with the rarest flowers available that could lit up the festive. Onam feast (Onasadya) is a delicious and mouth watering experience for all people across the globe who gathers the state to have the grand feast. Thalappanthukali, Kayyankali, Attakalam, Ambeyyal, Kutukutu are some of the Onam games played during the festive season.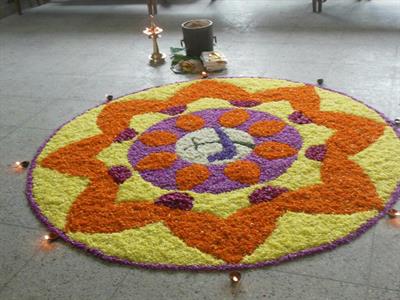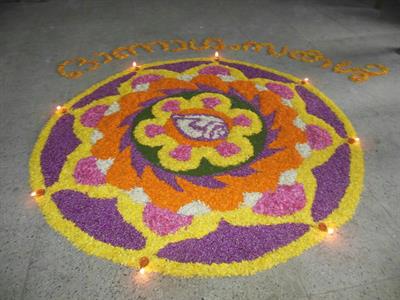 Hindu mythology depicts Onam as the Harvest festival celebrated in Kerala which commemorates the vamana avatar of Lord Vishnu and annual visit of King Mahabali from the underworld. Onam festival is put forth during the Malayalam months of Chingam and the celebration starts for 10 days from Atham. The festival is celebrated by the masses inorder to memorize the golden era of Kerala ruled by King Mahabali. It was the time when all people were out from theft and deceit. They treated their neighbours ti their best and always indulged in helping others. No one were even discriminated on the basis of cast or creed.

There are plenty of rules which should be strictly followed while taking part in a floral carpet competition. The floral carpet (pookkalam) circular in geometry with atmost 1m diameter. Flowers should be fresh and proportion of flowers used must be known. It is possible to present a theme based design and the entire figure should only include petals except the case of central design using lotus. The team with 5 members could include the traditional decorations to add more points. Surrounding should be properly cleaned for the final judgement.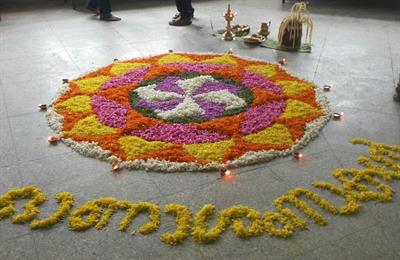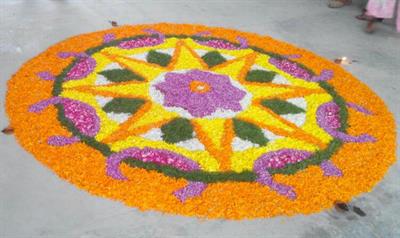 Music, dance, traditional cuisine and rituals are key to make this harvest festival fruitful. The ten days of Onam are celebrated to its fullest and varieties of floral carpet competitions are witnessed all over the state annually. People are indulged in searching new designs for floral carpet (athapookkalam) and study the manner of presenting it with professionalism. Different varieties of flowers are pinched up and decorated in special designs. The artistic sense and delicacy involved can end up in creating a visual treat.

A clay figure decorated with flower is installed near to the floral carpet in order to express deep respect towards the deity Vamana, Onatthappan. An enormous change in the design of floral carpet is noticeable which represents different cultures followed in Kerala. The floral carpets are set up during the 10 days of Onam and may even extent up to 28 days after Thiruvonam.