ACE College of Engineering Trivandrum - Facilities, Courses and Contact Address

ACE College of Engineering Trivandrum facilities, courses and contact address are given here. ACE College of Engineering, Plappattivila, Karinkadamugal, Thiruvallam, Trivandrum is one among the upcoming private self financing college in the long list engineering colleges in Kerala. Read this article to know more about ACE College of Engineering Trivandrum.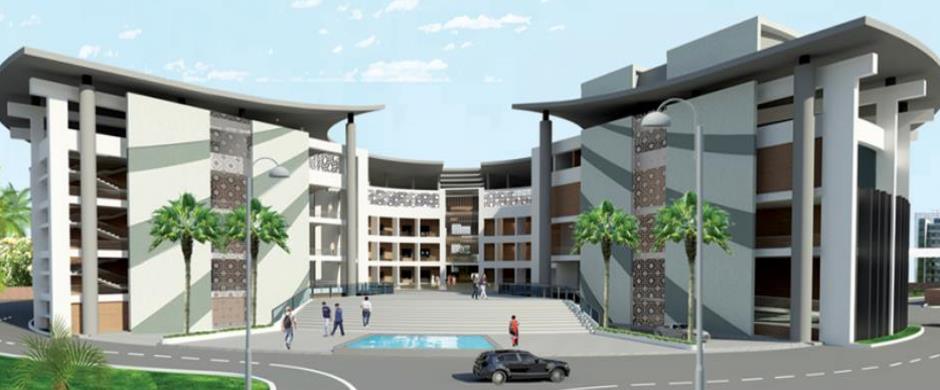 About the college
ACE College of Engineering, Trivandrum has emerged as an upcoming private self financing college in the long list engineering colleges in Kerala owned by 'Manarul Huda Trust' which came into act from 1982 onwards. The institution was established during 2013 under the affiliation of Kerala University and also has the approval of 'All India Council for Technical Education' (AICTE), New Delhi. The college campus covers a total of 5.06 acres of land with 19974.20 sq.m of built up area. It is situated at Plappattivila which is 8 Km away from district headquarters and 9 Km distant from the nearest Trivandrum Central Railway Station and Thampanoor KSRTC Bus Stand. The Trivandrum International Airport is located at just 7 km away.

A huge amount of hardship by the management rests behind this institution for bringing the institution up high. Present Principal post is crowned by 'Dr. Farrukh. Sayeed'. The institution is gearing up to establish their presence in fields of education and technologies in Kerala and to implant some sprouting extraordinary talents every year. Two teams were selected from the state during their first year for taking part in the competition for international robotics challenge conducted by IIT, Mumbai. Also an 'Aero modelling club' has been put forth for all those who are interested in aero model designing.


Admissions to the college
Admissions to the college is strictly based on merit. The students should qualify in 'All Kerala Entrance Examination' and should also have 50% aggregate for mathematics, physics and chemistry for getting B-Tech eligibility. Half of the seats availed are present are delivered as merit seats where the entrance commissioner decides through the entrance score and remaining are set as management seats. Reserved seats are being put forth for NRI's with appreciable cautions. Scholarships and fee concessions are provided by the college for academically bright students.


Courses offered
1) BTech - Mechanical Engineering (ME)
Mechanical Engineering is one of the core branches of engineering which offers great jobs across the globe. A total of 60 seats are available for this course. The department is blessed with talented faculties who puts out their level best for getting maximum results for their work. Production management of heat and mechanical energy as well as the designing and production of machines and tools are all involved in this branch. Computer Aided Drafting and Modeling Lab, IC Engine Lab, Fluid Mechanics and Machinery Lab, Electrical and Electronics Lab, CAD Analysis Lab Machine Tools Lab, Production Engineering Lab, Mechanical Engineering Lab and Thermal Engineering Lab are all a part of Mechanical department.

2) BTech - Civil Engineering (CE)
Civil engineering is yet another core branch of engineering which delivers outstanding opportunities. A total of 60 seats are available for this course. It is related to designing, construction works and maintenance work of almost every structure seen around. The house in which we live, the roads and railway lines for transportation, bridges for passage, the dams, the drainages, etc; are all the works processed by a civil engineer. The institution pulled up their rope to filter the best engineers in town from the college. Many popular construction companies are recruiting their students with decent platform to rise up. Practical Survey lab, SM Lab, Concrete Lab, Environmental Engineering lab, Geotechnical Engineering Lab, FM Lab, and Transportation Engineering Lab are all a part of civil department.

3) BTech - Aeronautical Engineering (AE)
Aeronautical engineering is one among the two major overlapping branches of aerospace engineering and a bright branch of engineering which deals mainly with the research, development, design, testing, construction, science and aircraft technology. The demand of aeronautical engineers is growing day by day and it's scope is creeping up high. As an aeronautical engineering colleges they strives hard to recruit their students in top class companies with enviable compensation. A total of 60 seats are available for this courses. The college have managed a decent placement records over the years. Materials Testing Laboratories,FM Lab, Low Speed Aerodynamics Lab, Production Engineering Lab, Aircraft Structures Lab, Experimental Stress Analysis lab, Computational Lab, Flight Mechanics Lab, Propulsion Lab and Avionics Lab are all included in AE department.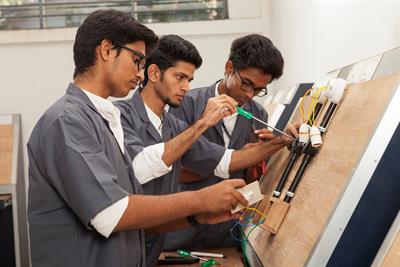 4) BTech - Electrical and Electronics Engineering (EEE)
Electrical and Electronics Engineering also holds a major part among the core branches of engineering and has great job opportunities worldwide. Its much challenging for the professionals as they should always keep updating the varying technologies of the field. A total of 60 seats are available for this courses. Electricity, electromagnetism and electronics are the key aspects of EEE. Power Systems Lab, Hydraulic Machines and Heat Engines Lab, Electrical and Electronic Workshops, Digital Circuits Labs, Measurements & Instrumentation Lab, Power Electronics Lab, Software Lab, Electrical Machines Lab, Systems & Control Lab, Electrical Machinery Lab and Microprocessor Lab are all a part of Electrical and electronics department.

5) BTech - Electronics and Communication (EC)
Electronics and Communication is a newly emerged branch which mainly comprises of works with electrical components to design circuits, devices and systems and thereby developing a modern world with technologies. It is observed that a rapid depression in this field has resulted serious lose in it's demand but even though the college strives hard to bring it up high. Electronics Devices and Circuits Lab, Microprocessors and Simulation Lab, Digital Electronics Lab, Microwave and Optical Communication Lab, Communication Engineering Lab, Measurements and Industrial, Digital Signal Processing Lab, Electronics Lab, IC Lab and Electronic Workshop Programming Lab are all comprised in EC department.


Facilities
1) Central Library
ACE College of Engineering provides well equipped library with all sorts of latest books for engineering and allied subjects. Plenty of national as well as international magazines are piled up for improving reading habits and vocabulary. Students are permitted to takeover their desired books up to the period assigned. Dues are imposed for all late submissions and will rise in due course of time. The college library thus provides the best platform for all the professionals within the campus.

2) Hostel facilities
College provides separate boys and girls hostel within the campus with all possible basic requirements. With the delightful and calm surrounding with scenic beauty all round will drag them towards the campus. Students will get a homely feeling as the wardens and staff members showers care and comfort through out their four years and thereby will love the place. Hostel fees are affordable and college allocates a total of 90 students in which 50 are for boys and 40 are for girls.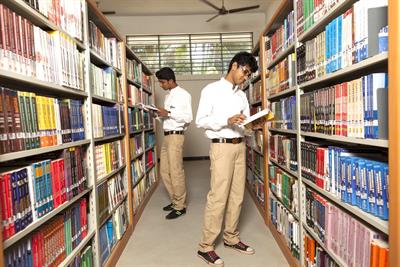 3) Transportation facilities
College buses are arranged to almost every roots nearby in order to make students much convenient while travelling. Staffs and other workers will always have a close observation on students. College bus fees are affordable and concessions are given for the students who are at a distant apart. Complete care and responsibility are rested up on the college for the safe ride of students.

4) Other facilities
Other facilities comprises an Echo friendly campus, internet facility, canteen, facilities for taking part in sports, National Service Scheme (NSS), Students' Club, Literacy Club, Science & Technology Club and even more. All the facilities available greatly benefits the students in due course of their academics and is even becoming more standard within days.


Contact Details

Address: ACE College of Engineering Plappattivila, Karinkadamugal, Thiruvallam P.O., Thiruvananthapuram, Kerala – 695027com
Tel no: 04717117777 ,04712384447
Fax: 04712384467
Email ID: info@acetvm.com
Website: www.acetvm.com

Management Address
Manarul Huda Trust, EMKE Manzil,
Kallattumukku, Manacaud P.O.,
Trivandrum- 695009
Tel no: 04712460095,04712462206
Fax: 04712462206
Email ID: headoffice@mhtrust.com
Website: www.mhtrust.