Lucifer malayalam movie – Mohanlal and Rajesh Pillai up for a visual treat

Lucifer malayalam movie will see Mohanlal in the lead. Lucifer malayalam movie heroine or actress is not confirmed. After the grand success of Traffic, Rajesh Pillai joins with Mohanlal to give the movie lovers a visual treat. Rajesh Pillai is currently busy with the completion of the hindi version of Traffic and pre production of malayalam movie gold. Lucifer with Mohanlal in the lead will be festive movie to be released in 2013.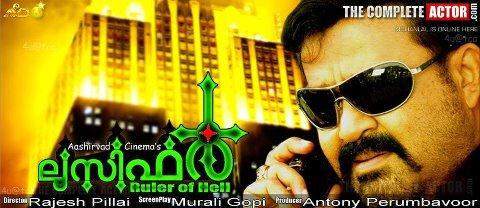 The malayalam movie Traffic came at a time when director Rajesh Pillai was in need to prove his mettle who failed to impress the audience with his directorial venture 'Hrudayathil Sookshikkan'. Traffic set a new trend setting waves in malayalam sowing the seeds for the new generation movies. This unlimited travelogue movie gave a real break for Rajesh Pillai who got a bunch of projects including Mohanlal staring Lucifer. Rajesh is currently busy with the making of the hindi version of Traffic and also with the pre production of gold. After the grand success behind the screen as script writer Murali Gopi will move his pen for the movie 'Lucifer'. Murali had shown his steal with a beautiful script which truly adorned the movie 'E Adutha Kalathu'.



Antony Perumbavoor will produce the movie under the banner Aashirvad Cinemas. It is known that after Run Baby Run, Mohanlal will be working for yet another project which will be released in 2012. So the movie Lucifer featuring Mohanlal in the lead will be a festive movie which is slated to release in 2013.

The year 2011 has started with Traffic making a big bang at the Kerala box office. Even though the movie started with an average opening, it managed to get into the hearts of millions in few days time. Finally Traffic completed 100 days of successful journey collecting around 6.5 crores at box office. Setting a trend, the movie had been a minor cause for a lineup of a handful of young directors coming up with young generation movies which totally changed the phase in malayalam movie making.

Most of the young movies were accepted by the movie lovers in Kerala for the courage taken by the makers to foreseeing the scenic sense adaptable for the young generation.

Mohanlal who had been a part of Cassanova, Grand Master, Spirit and Run Baby Run in 2012 would eventually do have big dream towards his forthcoming project along with Rajesh Pillai. So after 2012, the following year will be busy for Mohanlal who has already committed a handful of movies. Even though not much is known about the movie Lucifer, truly it would be a mass entertainer.