Bavuttiyude Namathil malayalam movie - Ranjith and Mammootty team again

Bavuttiyude Namathil malayalam movie preview is given here. Malayalam movie Bavuttiyude namathil directed by GS Vijayan will feature Mammooty in lead role. Ranjith has penned the script for the movie and also he produced the movie under the banner Capitol theaters. Read more about the movie Bavuttiyude namathil here.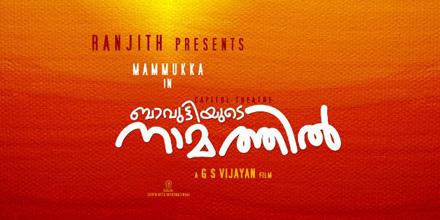 The director Ranjith has been travelling through a path of success ventures. His previous flick Spirit joined with Mohanlal has been successfully running in theaters. Now he is getting into another project along which megastar Mammotty who will play the lead role. Ranjith - Mammootty team's previous movies Kayyop, Palerimanikyam and Pranchiyettan and the saint has enthralled the viewers through the variety in theme which it handled. The forthcoming movie is titled as Bavuttiyude Namathil.

Enormous movies have spring from the background of Malabar. Malabar is one of the historically popular places in Kerala which had been emerging in the epoch even before our independence. This area has been characterizing by the culture, slang, and behavior of people. Muslim communities are crowded in those areas and mostly are popularly known as Malabarees. Upcoming movie Bavuttiyude Namathil also handles such a theme, which portrays the life of people living in Malabar. Malabar is not a single district but consists of northern part of Kerala which mainly includes areas such as Kannur, Kozhikkode and Malappuram.

The movie is directed by G S Vijayan while it is blessed with the hands of eminent scriptwriter Ranjith who will be moving the pen. Megastar Mammootty will essay the lead role of the movie Bavuttiyude namathil, while youth icon Anoop Menon will also appear in a key role. Mammootty is now busy with the flick 'Jawan of Vellimala' directed by Anoop Kannan under Mammotty's own production company Play House. Bavuttiyude Namathil is produced by Ranjith under the banner Capitol theaters.


Bavuttiyude Namathil malayalam movie story

The movie Bavuttiyude Namathil will be portraying the life of peoples in Malabar area. Superstar Mammooty will handle the role of a car driver Bapputty, who enjoys life without tension. Shankar Ramakrishnan will do the role as his employer. The movie will depict their life which is being mixed with culture of Malabar.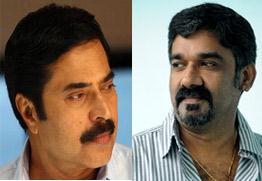 Bavuttiyude Namathil malayalam movie production

The shooting of the movie will start at Pattambi from September 10, and continuing in various places of Kozhikkode. The movie Bavuttiyude Namathil is expected to hit theaters in 2013. The movie Bavuttiyude Namathil was primarily termed as Malabar but later changed to this name. Previously the lead role is handled by Anoop Menon along with Mega star Mammooty. But due to busy schedule he was replaced by Shankar Ramakrishnan. Anoop Menon has done another character in the movie Bavuttiyude namathil.