Face to Face malayalam movie- Mammooty and Vinu team again

Face to Face malayalam movie preview is given here. Malayalam movie face to face directed by VM Vinu will feature Mammooty in lead role. Nasar has produced the movie under the banner Good line production. Read more about face to face malayalam movie here.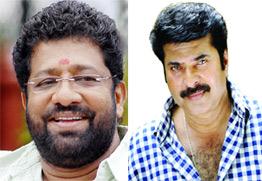 Malayalam movies are going through the path of alteration. We can witness the effect of alteration in recent movies in malayalam film industry. The change has gained much good appreciation from the side of viewer's which helped emerging movie makers to put their foot strong in the field. Following the new generation waves experienced directors are also coming across different concept to capture the heart of youth.

VM Vinu is one of the directors who had made family hits teamed up with megastar Mammotty. There are number of movies in their successful credits like Pallavoor Devanarayanan, Vesham, Bus conductor etc. These movies did mainly handle family oriented themes. But the situation has changed a lot as family concept movies have faced difficulty to make hit in box office. Grasping the lessons from the current trend VM Vinu is now pair up with mega star Mammooty in upcoming Malayalam suspense thriller face to face.


Face to face Malayalam movie story

Face to face Malayalam movie is the fourth movie from VM Vinu team up with Superstar Mammooty. The movie Face to Face has been portraying a suspense investigation thriller. In this movie Mammooty will be doing the role of Balachandran, who was appointed for the investigation of silent murders occurring in the midst of modern urban life. As the name suggest the movie has been bringing life and death face to face.

Siddique, Kunjan, Vijaya Raghavan, Prathap Pothan, Vineeth Kumar, Kalabhavan Mani, Nishanth Sagar are doing other important characters of the movie Face to Face. Along with experienced stars the movie face to face is featuring with 4 new faces. Roma will be doing the female lead along with a fresh faces. Manoj has penned the story and Ajayan Vincent has made the visualization of the movie face to face. Goa, Ernakulam and Munnar will be the shooting location of latest Mammooty flick face to face. Alfons has tuned the music for the lyrics of Rafeek Ahammed and Anil Panachooran. Nasar has produced the movie face to face under the banner Good line productions.