Kamath & Kamath: Mammootty, Dileep, Dhanush trio magic on screen

Kamath & Kamath malayalam movie features Mammootty, Dileep and Dhanush in lead roles while Rima Kallingal and Karthika Nair have been roped as heroines. Scripted by Udhaya Krishna, Kamath and Kamath will be the second directorial venture of Thomson K Thomas after Karyasathan. The shooting of the movie begun on 5th November and will be a summer attraction in 2013. Read more to know about Kamath and Kamath.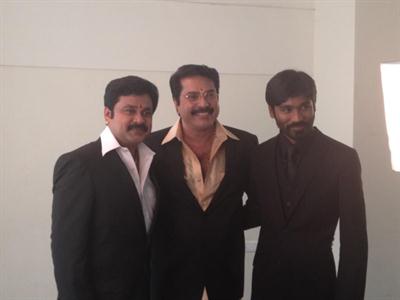 Get ready to welcome 2013, a year which will carry a long line of blasting movies which are currently under preparation. Already the current year is blessed with the release of more than 100 movies with 2 more months remaining. There are around 10-12 films geared up to release in November, but failed to move forward due to the ongoing theatre strike. All together Mohanlal and Mammootty have committed for 5 movies each, a number of movies featuring youngsters are on the preparation getting ready for next year's launch.

Apart from Lokpal, Red Wine, Mr.Fraud, Ladies and Gentleman, Lucifer and 6 muthal 60 Vare Mohanlal has give dates for Nayan Padri's Hollywood movie Billion Dollar Raja and Ananth Mahadevan's The Witch Hunt. On the other hand Mammootty will lead his face for Kunjananthante Kada, Mudiyana Puthran, Praise the Lord, Arival Chuttika Nakshatram and an untitled project as Christian priest of Salam Palapetty.

Movie fans who were excited to hear about a multi star combination are now thrilled knowing more about the project. Titled 'Kamath and Kamath', this malayalam movie will bring Mammootty and Dileep, a successful combination again on a single frame. After coming close in Megham and Rakshasa Rajavu, the duo is back in business with 'Kamath and Kamath' playing the characters of Raja Raja Kamath and Deva Raja Kamath respectively. After giving a lot of twist in the casing of the movie, right now it's confirmed that Mammootty and Dileep will play the Kamath brothers who speaks Kasargod- Konkani dialect.

Thomson K Thomas is back in the camp after his successful directorial debut with 'Karyasthan'. Even though the shooting of the movie was planned to start next year, Dileep was ready to give some early time as the preparation of the set of his Telugu movie 'Baba Sathay Sai' getting delayed. More than that Mammootty too had time before settling in for another movie.

But the hunt for the third actor remained in mystery as Jayaram who was earlier confirmed as the second Kamath Brother let him out due to commitment for Shaji Kailas direction 'Ginger'. Later it was Kunchacko Boban who was confirmed for the character role of an income tax officer who plays hide n seek between the Kamath brothers. But leaving all those news behind heard it through the grapevine it is known that tamil actor Dhanush will play the cameo role in Kamath and Kamath. Rima Kallingal and Karthika Nair are casted as heroines in the movie.

Siby K Thomas and Udayakrishna who had rendered several hits through their magical pen, will lend their service as script writers for Kamath and Kamath. Siby Udhakrishna duo had given notable scripts which stood as the back bone of a number of hit movies is expected to deliver the same magic in this movie. Kamath and Kamath is being produced by Anto Antony.

The shooting of the movie started on 5th November 2012 with Mammootty and Dileep is expected to join the team on 7th November. After completing the movie Dileep will be busy with his maiden Telugu project as Sathya Sai Baba in the movie 'Baba Sathya Sai' directed by Telugu ace director Kodi Rama Krishna. The overall budget of the movie is calculated to be of 87 crore while it will be dubbed in regional and international languages too.