Mathrubhumi Kappa TV channel launch date set for October 2012

Mathrubhumi Kappa TV channel launch date is set for October 2012. Being one of the top print media in Kerala, Mathrubhumi is all set to launch two channels; Mathurbhumi Kappa – an entertainment channel and Mathurbhumi News- a news channel. Read more to get details about Mathurbhumi Kappa TV channel.


There had been a time when the television viewers in Kerala had to stick on to one channel to get them entertained. But years later, with the popularity of visual media, there developed a culture called – Media Culture. Currently the number of malayalam channels has rose to around 20 which includes entertainment, news and channels based on religious views. Adding 2 more channels to the fray, one of the popular print media Mathurbhumi is all set to launch Mathurbhumi News Channel and an entertainment channel named Kappa which will be launched very soon.


Mathrubhumi Kappa TV Channel – Fun Unlimited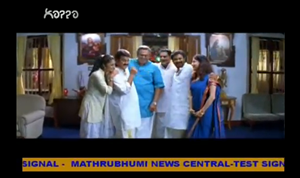 Kappa TV channel will be the first to get launched which will be followed by Mathurbhumi News. Titled as 'Kappa', the channel will be a complete entertainer focusing on an array of programmes including music, lifestyle and lot more. The channel aims to give a tough competition to those entertainment channels like Asianet, Surya TV and Mazhavil Manorama which are now on the top run to clinch the hearts of the viewers. Already the tests run of the channel has started and is expected to get launched in October 2012.


Mathurbhumi News

Next to follow Kappa will be the best from the house, Mathurbhumi News Channel. The channel had already roped some of the leading media personalities from other channels to give a blossom look to Mathurbhumi News. After the launch of the channel which is expected to happen in November, this news channel aims to rise up the ladder giving a close competition to other news channels like Asianet News, Manorama News, India Vision, Reporter TV and People TV. Both Kappa and Mathurbhumi News will be free-to–air(FTA), while discussions are on with DTH providers to reach the channels to other parts of the world where there are large malayalee communities.


Upcoming Malayalam Channels in 2012-2013

In the coming months, Keralaties are expected to see an array of channels to get launched. Around 10 channels are under construction which include Kaumudy TV (by Kerala Kaumudi) and Raj News Malayalam, Media One, Zee Malayalam, Janam TV, Jai Malayalam TV, Sakhi TV(1st Women's Channel in Malayalam), Janapriya TV and Kairali Arabia, other than the two channels by Mathrubhumi.