Josco Indian Voice finalists gearing up for the Grand Finale

Do not miss to watch Josco Indian Voice Grand Finale live on 13th October 2012 to be telecast on Mazhavil Manorama channel and those online streaming channels. As the 6 finalists are gearing up to enthrall the audience who is eagerly waiting to get the show being. It would be Bibin, Priya, Siyad, Selin, Vishnu and Sreeranjini who would join the party for the mega show. Read more to know about Josco Indian Voice grand finale.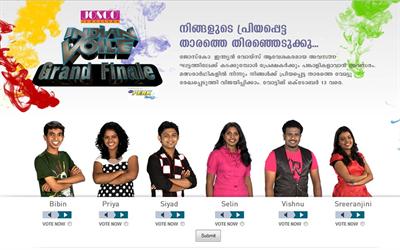 Musical programmes telecast in television channels do an extra flavor to music lovers who are interested to get the first touch of their favourite songs from the lips of young talents. There are many musical reality shows which are much popular than any other talent hunt. Kerala, having a number of TV channels competing each other to fetch better audience rating do come forward with musical programmes with the whole heart support of a handful of musical geniuses who would be a part of the judging panel. Amrita TV which started a new epic featuring musical reality show, many other channels came the same way with musical shows in new brand wrap. Idea Star Singer is such a music programme which created a space in the heart of millions moving successfully unbeaten for the last 6 seasons. Among them would be the Josco Indian Voice, a branded musical show telecast in Mazhavil Manorama.

Josco Indian Voice is amusical reality show which is being anchored by Anand Narayan, an upcoming play back singer who had debuted in films through the song Mamboo Paadam from the movie 'Orkkuka Vellappozhum'. His energetic performance is a real boost to the show which had been running for the past one year. The show is supported by Stephen Devassy, a musical intellect who could turn a crowd dance according to the moment of his magical fingers. Blessed with the presence of Shankar Mahadevan, Srinivas, Sujata, eminent personalities from the musical world, Josco Indian Voice is nearing to its grand finale which would be an eye candy for music lovers.


Samrajam 2 team @ Indian Voice– 9th October 2012

The crew of the upcoming mega malayalam movie Samrajyam 2 would definitely keep the stage of Josco Indian Voice alive as movie director Perarasu and music director R A Shafeer would select their choice from among the singers for their movie. The episode will be telecast at 8.30 PM IST on 9th October 2012.


Josco Indian Voice Grand Finale – 13th October 2012

Get ready to charge yourself for the tunes set by the 5 best young singers who would rivet the million of music lovers who had been waiting for the day to happen. The grand finale to be held on 13th October 2012 will be watched by millions around the world live through Mazhavil Manorama. So don't miss to watch the show which really started with 21 best young singers, reaching the final stage with Bibin, Priya, Siyad, Selin, Vishnu and Sreeranjini, the 6 contestants who are gearing up to make the extravagant decorated stage to freezy ice. It would be the clash of titans setting the stage to fire competing each other for the title.