Jayasurya Malayalam Actor – Profile and Biography

The profile and biography of the Malayalam actor Jayasurya is given below. Jayasurya is a famous, young, talented actor in Malayalam film industry. He is also a mimicry artist who got into film industry in the year 2002. In this article I have mentioned about Jayasurya's family life and career life. Read below to know more about him.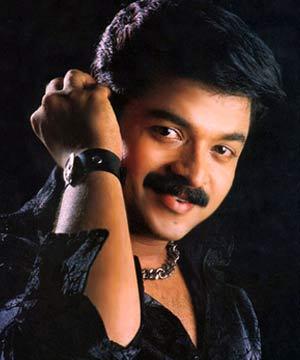 Personal Life

Jayasurya is a popular young actor and a comedian in South Indian film Industry. He was born on 31st August 1978 at Thrippunithara, Kochi - Kerala. His father is Mani and mother is Thankam, and they belong to the Goldsmith community. He took his degree in Commerce. In the year 2004, he married his girl friend Saritha and they have a son Adwaith born on 2006 and a daughter Veda born on December 30, 2011.


Career Life

Jayasurya started his career as a television artist and as an anchor. He became popular among the family audiences as an anchor in musical programs. He also did a show 'Jagathy Vs Jagathy' on Surya TV and this program was a great success and has helped him a lot in his career growth. He dubbed for films and is also a mimicry artist by profession. He acted in some small roles in several films like 'Dhosth', and as a comedy artist in 'Aparanmar Nagarathil'. After such films he got a chance to appear in the silver screen as a hero.

The film 'Oomapenninu Uriyaadapayyan', directed by Vinayan which was released in 2002 was the first Malayalam film of Jayasurya, as a hero. In this movie Kavya Madhavan was the heroine. Jayasurya acted as 'Bobby Oommen' the role of a speechless young man from a poor family who fell in love with 'Gopika'(Kavya Madhavan), who is also deaf and dump. Through this incident the story is progressing. He got a great chance to act with Cochin Haneefa, Mala Aravindan, Harisree Ashokan, Sai Kumar, Sudeesh, Indrajith, Jagadeesh, Bindhu panikkar, Kalpana etc. This film was a big hit at box office and was remade to Tamil. 'En Mana Vaanil' is the Tamil version of this movie and this is the first Tamil film of Jayasurya and this film was also directed by Vinayan and Kavya Madhavan was the heroine again.

After this, his films like 'Pranaya Mani Thooval', 'Kattu Chembakam' were flop at box office. He then acted in a Kamal film 'Swapnakkodu' in the year of 2003 with Pritviraj, Kunchako Boban, Meera Jasmine and Bhavana. This was a block-buster in box office and became an extraordinary campus hit in Malayalam. Next he acted in two mega hit movies in the lead role. In the year 2003 the movie 'Pulival Kalyanam' directed by Shafi was released with Kavya Madhavan as the heroine. This is a love story attached with a family story. Then in 2004 the film 'Chathikatha Chanthu' was released. This was a comedy film directed and written by Rafi Mecartin. By these two films Jayasurya became a renowned star.

Jayasurya had got the opportunity to act with most of the senior actors like Kamal Hassan, Mohanlal, Mamootty, Suresh Gopi etc. The new generation actor Anoop Menon – Jayasurya team made big hits at box office. In 2010 the film 'Cocktail' was also a box office hit directed by Arun Kumar. Then in 2011 a movie 'Beautiful' directed by V.K Prakash and this movie is very beautiful as its name says. The songs, script and all other sections of this film was very interesting and was a good treat to the viewers. The movie 'Sankaranum Mohananum' directed by T. V. Chandran was released in 2011. In this film Jayasurya acted in double role - 'Sankaran' and 'Mohanakrishnan'. He had 20 different appearances in this film.

Oomapenninu Uriyaadapayyan(2002), Swapnakkodu(2003), Pulival Kalyanam (2003), Chathikatha Chanthu(2004), Classmates(2006), Arabhikatha(2007), Choclate(2007), Lolly Pop(2008), Ivar Vivahitharayal(2009), Robin Hood(2009), Gulumal(2009), Cock Tail(2010), Happy Husbands(2010), Sankaranum Mohananum(2011), Three Kings(2011), Beauiful(2011), 101 Weddings(2012) etc are some hits of Jayasurya as an actor.

Jayasurya has acted in some Tamil films including En Mana Vanil(2002), Vasool Raja MBBS(2004), Manathodu Mazhaikalam(2006), Manidhan(2008), Chakkara Viyugam(2008) etc.

Jayasurya had an ambition to sing and now he got a chance for it. He sang a song named 'Krishnakavyam' at Vani Studio, Kochi for a devotional album.

Up Coming Malayalam Films of Jayasurya - 2013

An action film 'David and Goliath' directed by Rajeev Nath


A dramatic film 'Sweet Heart' directed by Saji Surendran


A romantic - comedy film 'English' directed by Shyma Prasad


A dramatic film 'Thanal Tharaatha Marangal' directed by Dr. Biju


A romantic film 'Double Decker' directed by T.S Saji


A dramatic film '97 Batch Maharajas' directed by Basheer Muhammad
Up Coming Malayalam Films of Jayasurya - 2014
A comedy film 'Evening Batch' directed by Boban Samuel


A dramatic film 'Raathri' directed by Ratheesh Ravi


An action – comedy film 'Ali Babayum 41 Kallanmarum' directed by Vinayan


A dramatic film 'Ardhanareeswaran' directed by Ratheesh Ravi


A dramatic film 'Kallante Katha' directed by Babu Janardhanan
Awards & Achievements
Asianet Film Awards
2008 -> Best Star Pair Award with actress Roma for 'Utharaawayamvaram'


2009 -> Best Star Pair Award with actress Roma for 'Minnaminnikoottam'


2010 -> Youth Icon of the Year
Amrita FEFKA Film Awards
2008 -> Best Supporting Actor for 'Minnaminnikoottam'


2009 -> Best Star Pair Award with actress Bhama for 'Ivar Vivahitharayal'


2010 -> Best Supporting Actor


2011 -> Entertainer of the Year for 'Beautiful'
Asia Vision Film Awards
2011 -> Best Supporting Actor for 'Cocktail'


2012 -> Second Best Actor for 'Beautiful' and 'Trivandrum Lodge'
Jai Hind Film Awards
2011 -> Second best Actor for 'Beautiful'
Mathrubhumi Film Awards
2009 -> Future Super Star Award
Other Film Awards
2009 -> Annual Malayalam Movie Award - Special Jury Award


2010 -> NANA Film Awards - Second Best Actor for 'Cocktail'


2011 -> Film Guidance Society of Kerala Film Awards - Best Actor for 'Beautiful'


2011 -> NANA Film Awards - Best Actor for 'Beautiful'


2011 -> Ramu Kariat Memorial Cultural Forum Awards - Special Jury Award for 'Beautiful'


2011 -> Thikkrussi Puraskar Awards - Second Best Actor for 'Beautiful'