Miss Kerala fashion calendar 2013 featuring sizzling beauties released

Miss Kerala Fashion Calendar 2013 was released recently. The 2013 calendar features 2012 Miss Kerala Deepti Sati, first runner up Sanika Nambiar and second runner up Reshmi Nair. Shot at the backdrops of Hotel Raviz, it was Rajan Paul, the ace photographer who zoomed his camera to capture the beauties.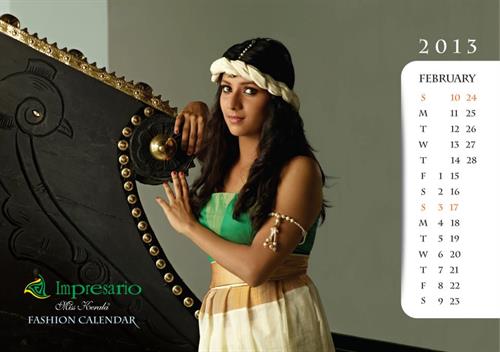 It was the time for the three sizzling beauties to lend their face for the photo shoot of 2013 edition Miss Kerala Fashion Calendar. The 2013 calendar will be bejeweled with the presence of Miss Kerala 2012 Deepti Sati, first runner up Sanika Nambiar and second runner up Reshmi Nair.

Made in matt-finish paper, the calendar was prepared keeping focus on the theme 'Backwaters'. Popular phograher Rajan Paul who keeps high reputation for his unique vision over the skillful profession has taken patience deliberately bringing snake boats in background and the conventional Kerala style interior wood paneling to set his views.

Raviz Hotel in Kollam which boosts of having lush interiors stood as the backdrops for the shooting. The visual beauty of the hotel's interior was shown with perfection as the swimming pool and the lotus pond did add more colours to each frame. Each photograph had a model dressed in attractive costumes posing near a swimming pool or leaning on to a wooden boat. Each model did have kept the traditional clothing of Kerala embedded with current trend.

Achu Kichy, the stylist and designer for the episode had tried various combinations of saris including gold kasav and off-white mix well matched with antique jewellery. The saris were arranged in a well manner as skirts, having rills and pleats.

Ramesh Kannan who served as the makeup specialist took time to polish the models making them suitable matches the costumes. Designed by Animesh Xavier Effects, the calendar consists of 12 images with naturalistic beauties embedded on each one of them.