Pathiramanal Malayalam Movie Review - FDFS Reports from theaters in Kerala

Pathiramanal malayalam movie review and FDFS reports from theaters in Kerala is given below. This new movie, released on 15th March 2013 is a family action thriller with romantic saga. The initial report says that it is rated as an average movie with old wine in new bottle. Read the article below to know about the story line, cast and crew behind "Pathiramanal".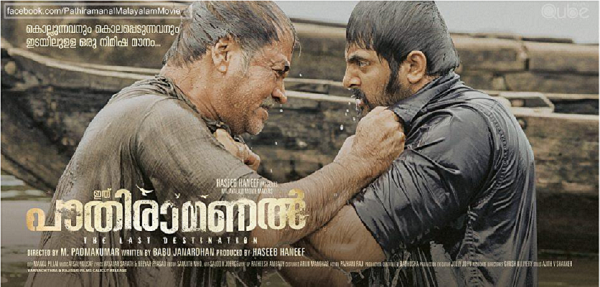 Pathiramanal is the action thriller from director M Padmakumar. The movie which was released on 15th March 2013 tells a romantic story. Unni Mukundan, Jayasurya and Remya Nambeeshan appear in lead role. Pradeep Rawat, the leading villain character performer in South India is being casted in the villain role.

The script of the movie Pathiramanal was penned by script writer Babu Janardhanan. Bagath, Kunjan, P Balachandran, Anil Murali, Santhosh, Idavela Babu, Shalumenon, Shari, Jyothi, Archana and Master Sidarth don other major roles of this movie. As, the title of the movie suggests, the movie has been developed in the background of one of the best tourist destination in Kerala, Pathiramanal island. Pathiramanal's captivating and splendid beauty has given a visual treat for the viewers. To make the movie more entertaining, melodious songs are attached to it.


Story line of Pathiramanal

The story of the movie Pathiramanal is revolving around the hero Unni Mukundan. The story is all about a private financier Eldho (Unni Mukundan) who lives with his mentally challenged mother in a hill station. She was raped by a police constable (Pradeep Rawat) during Eldo's child hood. His father had died while going after the constable avenging his wife's hazard. Eldho has reached Pathiramanal to take revenge against the police man who destroys his life. There he meets Sara (Remya Nambeeshan) and become romance with her. After a while he realizes that she is the daughter of his enemy. Here the movie progress with dramatic incidence.


Pathiramanal malayalam movie review

All together there is nothing new in the movie Pathiramanal. If you go with high expectation, you will surely be disappointed. The director has followed similar subject of Bharathan's Tazhvaram, Priyadarshan's Oru Muthashikadha, and Thiruvambadi Thamban. According to user opinion, the movie didn't maintaining the standard of these movies. Unni Mukundan need some more times to reach more heights. The writer didn't give much for performance by the actors. The only positive of the movie is the cinematography and villain Pradeep Rawat. Cinematographer Manoj Pillai really deserve honour for capturing the beauty of Pathiramanal Island. South Indian actor Pratheep Rawat has performed well in his role.

SPK Rating : 4.5/10
SPK Verdict : Below average