Neram Malayalam Movie Review - FDFS reports from theatres in Kerala

Neram Malayalam movie review FDFS reports from theatres in Kerala is given here. The film is really a good entertainer for the viewers. The combination of Nivin Poly and Nazriya was excellent. The movie tells the story of an educated unemployed young man and various situations he faces during his life in chennai. The director done his part very well as the film was presented in a new style.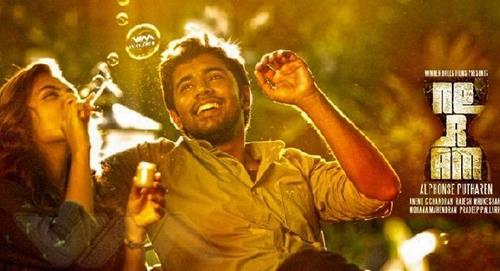 The Malayalam movie industry again proved that, the new experiments and attempts in film making will be definitely accepted by the people. The new Malayalam movie Neram staring Nivin Pauly and Nazriya was released all over Kerala. The film is really an extra ordinary attempt from the director Alphonse Putharen. He has done a good job to entertain the viewers; especially to the youngsters of Kerala. The review of this film will be happy news for all Nivin Poly fans in Kerala, as he performed well in this film. The film is just as an ordinary film that tells the story of person who suffers from various issues and problems. But, in this film, the same situation is handled in a different way. That makes this film outstanding in front of the audience. Once the director Alphonse said, "We developed the story of this film three years back, therefore it is the outcome of strenuous effort by a group of like-minded people".

We can see their efforts and hard work in each shot of this film. The film will be really a marvelous treat to all youngsters of the state. The story moves in slow mood in the first half with a humor touch in most of the scenes. The film narrates the story of young educated man who lives in Chennai. Even though he was educated, the lack of experience makes him disqualified for all jobs in professional companies. The promo song titled "Pista." was already hit in all search engines and social Medias.

Those want to see a good movie during the end of summer vacation can confidently go for this film. even though this film focus on youngsters, viewers of all age can also enjoy this film as it includes, good humor, sorrow, action, mirth, and anger. The name NERAM is well suited for this film as all situations and story happens based on timing of each one in this film. The happenings in the life of each character in this film are related to their own time and lucks. We could get a good message from this film that, the bad time will changed to good times once.


Review of Neram

The story of the film goes through the life of younger man known as Mathew, who completed his engineering degree in computer. He lives with his friend in Chennai and seeking for the jobs for the past one year. Unfortunately, he doesn't get any job at any good company. Mathew was in love with a cute girl known as Jeena. She was self employed in some travel agency. After knowing their love, her father Johny Kutty agreed for their marriage. In Chennai, Mathew took loan from a money lender, who is the main villain roll of this film. As the days and moths passed, the Mathew doesn't get any job and the money lender gives him final warning to repay his money. In this situation, his lover leaved her home and decided to live with Mathew. The money lender kidnapped her from the church.

He was misunderstood that she is the lover of another guy who took money from him. At the same instant, a thief robed Mathew's money which he decides to give back to money lender. Hence, all the problems arrive at same instant. In the climax of the movie, the money lender, thief, Mathew, and all coincides for a funny ending. Even though it's not a comedy film, director intelligently used various situations in humorous mood. The overall first day report is good. The camera and editing was superb as it give us a wonderful experience in presentation. The music and background score was also well up to its standard of a new generation movies. The film will never make feel bad at any situations. The first half is anyway somewhat slow and not included any sort of exciting moments. But the second compensate these problems as it includes so many humor touched scenes, exciting and thrilling moments.

The director had made a very good attempt to make viewers happy and satisfied at the end of movie. In last year he directed a music album staring Nivin and Nazriya. He was started his profession as cinematographer through a Vinayan film, boyfriend. The music composed by Rajesh is already in the hit chart as it entertains the youth audience.

The camera handled in a appreciable manner and we could feel the beauty of each scenes while watching the movie. Coming to the performance, Nivin Pauly has done his part absolutely well. He played the character of Mathew. Nazriya has been proved that she can be a good shing actress in coming years. She handled the role of Jeena with all her efforts.

Manoj K. Jayan as Rayban, Simhaa as Vatti Raaja, Lalu Alex as Johny kutty, Anju Kurian as Mathew's sister. Shammi Thilakan as Police inspector. They all did their small roles well. The film is actually a bilingual movie. Its tamil version will be released in the next month. This film will be one of the best blockbusters in this year.
SPK Rating : 7.5/10
SPK Verdict : Watchable