Anchu Sundarikal (5 Sundarikal) malayalam movie review: FDFS reports from theatres in Kerala

Anchu Sundarikal (5 Sundarikal) malayalam movie review, First day(FDFS) reports from theatres in Kerala is given here. Anchu Sundarikal, an anthology film coming from the young artists of Malayalam movie world, is getting good responses from theaters in Kerala. This is an experimental film with 5 short stories in it, directed by 5 most celebrated young directors. Dulquer Salman's 'Kullante Bharaya', Fahad's 'Aami' and 'Sethulakshmi' are getting good reviews.


Anchu Sundarikal, one of the most hyped movie of the year, didn't disappoint the wait and anticipation of Malayalam movie lovers. The experimental film is getting good reviews on the first day itself. Anchu Sundarikal is an anthology movie from the young directors Anwar Rasheed, Aashiq Abu, Amal Neerad, Sameer Thahir and Shyju Khalid telling five short stories at a length of 30-40 minutes each. It is about five women – a mother, a daughter, a lover, a wife and an actress. The movie is packed with an energetic casting from the likes of Dulquer Salman, Fahad Fazil, Nivin Pauly, Biju Menon, Kavya Madhavan, Honey Rose etc. Playback singer Rimi Tomy stepped into the film world through this venture. The five short films of Anchu Sundarikal are Aami, Isha, Gowry, Kullante Bharya and Sethulakshmi.

Each short film in 5 Sundharikal is a different treat for the audience. Read the reviews of each short film one by one below: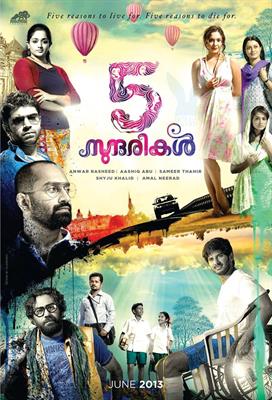 Sethulakshmi
Shyju Khalid makes his debut as a director through the film 'Sethulekshmi'. It is an adaptation of a story by M Mukundan. Two child artists, Anika and Chethan, plays the lead in this segment. Albi is the cinematographer of the movie. 'Sethulakshmi' is definitely one such movie everybody would remember after leaving from theater. It is a simple story that is taken well. The performance of two child artists are exceptional. They fit well in the role of innocent children. Shyju Khalid has done an outstanding work in his debut movie. Direction, cinematography and the outstanding performances form actors make it one of the best among the five. Sethulakshmi would be the least expected movie, but it surprised everyone.

Isha
Dircted by Sameer Thahir, 'Ishq' is the story of a thief. Nivin Pauly and Isha Shervani are the lead actors in this short film. Shyju Khalid is the cinematographer of Ishq. A thief entering into a house and events followed by it is the plot of this section.

Gowri
Biju Menon, Kavya Madhavan, singer Rimi Tomy, and Tini Tom are the lead actors in this short film. Gowri is a period film about a group of people going in search of a promised land. Although bit slow, the movie has good theme in it. Gowri is directed by Aashiq Abu and the cinematography is done by Rajeev Ravi.

Kullante Bharya
Kullante Bharya' is based on an ancient Chinese short story. Dulquer Salman and Reenu Mathews appears in the lead roles in this movie. Amal Neerad is the director of this short film and Ranadive is the cameraman. Kullante Bharya is undoubtedly the best short film among the five. Dulquer has been improving a lot since his first movie 'Second Show'. This is an outstanding performance from him. This short film speaks out the awkward thinking of the society. It is the story of a man who has a fractured leg and living with his tall wife. May be this is Amal Neerad's best work we have ever seen. Direction, visuals and Dulquer factor are other add-on's apart from the touching story.

Aami
Directed by Anwar Rasheed and cinematographed by Amal Neerad, Aami is a road movie. Fahad Fazil, Honey Rose and Vinayakan are in the lead roles of Aami. This movie unfolds an eventful night. Fahad Fazil, with his new stylish look and natural acting, make this one an engaging movie. 'Aami' is the story of a man going to Kochi from North Kerala to make a business deal. His conversation on the way, to his wife and the Arabic dialects in it etc has been taken well.

Performance of Fahad Fazil and Dulquer Salman are outstanding. Dulquer is beaming towards having strong fan base among all the young actors in Malayalam. He was welcomed with great applause and so was Fahad. Rimi Tomi's performance in the movie ensures that she will have some more films in a short while. The performance of two child artists, Anitha and Chethan, are another thing which can't be omitted. They have done very well in that roles. Performance from other cast are also good.

5 Sundharikal or Anchu Sundarikal offers a golden chance for every movie lover to witness the talents of young artists – both behind and in front of the camera. It should not be the story or the reviews that attracts a movie fan to the theater, but it should the courage of these youngsters in making Anchu Sundarikal possible. This is a golden chance for everyone to see and rate the artists who had gifted us some greatest hits recently from one single film. Many new artists like director Shyju Khalid, Rimi Tomy, the child artists etc made their entry into the movie industry through this venture. 5 Sundarikal is an experimental movie - a gift from the young artists who have been doing outstanding work for the last few years. Watch this gift from your nearby theaters.


5 Sundarikal Rating

Sethulakshmi : 8.5/10
Isha : 5/10
Gowry :6.5/10
Aami :8/10
Kullante Bharya : 9/10
Overall Rating of Anchu Sundarikal : 7.5 /10