Sound Thoma malayalam movie review: FDFS reports from theatres in Kerala

Sound Thoma malayalam movie review and FDFS reports from theatres in Kerala are given here. After receiving positive reports from his previous flicks like My Boss, Kammath and Kammath, Janapriya Nayakan Dileep is gearing up to win hearts of the viewers with a versatile role in 'Sound Thoma' directed by Vyshak. After getting huge applause for his character in 'Mayamohini' released an year ago, Dileep is gearing up to bring excitement with another flick 'Sound Thoma' which got released on 5th April 2013.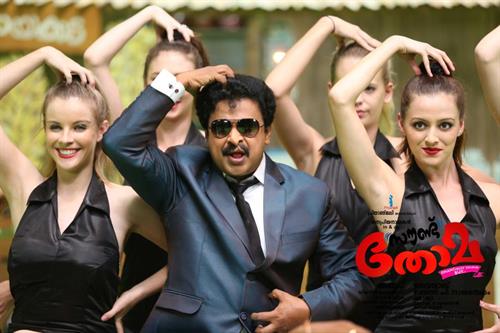 Janapriya Nayakan Dileep has kept his presence alive for the last 2 decades with his vibrant acting skill. Even after completing the landmark of 100 movies, still he is ready to take up challenging roles which can win the hearts of the viewers. We have seen the actor sizzling in Chandupottu', 'Kunjikoonan' and Mayamohihi which really struck gold by running successfully at the box office. The positive aspect of Dileep would be flexibility in delivering dialogues which can bring smile of the faces of viewers. The actor is back in a new avatar in Vyshakh's 'Sound Thoma'.

Credited with 2 blockbusters and a superhit, director Vyshakh is gearing up to give an entertainer for the fun loving family audience. His previous flicks like Pokkiri Raja, Seniors and Mallu Singh created waves in the theatres which still has huge viewers as it come to the small screen.

'Sound Thoma' tells the story of Thomas (Dileep), a smart and eligible bachelor. The story revolves around the incidents connected with Plapparambil Paulo (Saikumar) and his family. Thoma(Dileep), a member of the affluent Plapparambil family is an obedient son to his father Paulo who keeps lone consideration for money in life.

Even living in the midst of richness, Thoma is not liked by the villagers and his relatives due to his disability in speech. His cleft-lipped character meets Sreelakshmi (Namitha Pramod), an young radio jockey who gets admired by her beauty and sweet voice. Thoma who falls in love with Sreelakshmi, tries his on way to impress her. 'Sound Thoma' is the love story of Sreelakshmi who is blessed with a sweet voice and Thomas who is the victim of his own voice.

Being the 25th script donned by Benny P Nayarambalam, 'Sound Thoma' stands apart from his previous works. As the curiosity over Dileep's new avatar would burn after a couple of scenes, Benny had tried to field a solid story which can keep the audience intact.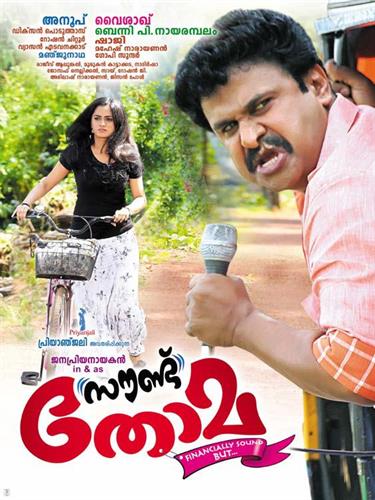 Shot at the peaceful locales including that of Kuttanad, DOP Shaji Kumar has given 100% dedication to his work. Having a huge line of young fan followers and family audience, expectations are skyrocketing for 'Sound Thoma' which had already brought record booking at theatres. To be released in more than 100 theatres, 'Sound Thoma' would be nothing less than a complete entertainer for his summer. The compete cast of the movie include Dileep, Mukesh, Nedumudi Venu, Saikumar, Suraj Venjaramoodu, Kalabhavan Shajon, Namitha Pramod, Vijaya Raghavan, Shiju and Resmi Boban.

Produced by Anoop under the banner of Priyanjali, Sound Thoma got released on 5th April 2013.


Sound Thoma Review

Benny P Nairambalam is known for his majestic script which tickles the funny bones of the viewers. But 'Sound Thoma' could not travel in the perfect track as the script failed to impress the audience who kept much expectation over the movie. Vyskah's Sound Thoma is a onetime watchable flick which can be enjoyed during this summer.

Even though Dileep sizzled in Kunjikoonan, Chandhu Pottu with exceptional characters, 'Thoma' who finds difficult to communicate with others too failed to do so with the spectators too. Dileep and Sai Kumar kept their presence alive on the screen with Dileep's character shouldering the story of the movie. Sai Kumar took the audience in hands with his acting brilliance while Mukesh, Suraj, Dharman, Shajon, Nedumudi Venu, Joju, Vijayaraghavan and Reshmi Boban and Soja Jolly were seen in different roles.

The heroine Namitha Promod was much good in various costumes and gave a bright performance in the movie and the song sequences too. The tunes set by Gopi Sunder were not much satisfactory while comparing his brilliant work with Usthad Hotel. The predictable climax and poorly done action sequences kept the viewers hold their head down.

In short 'Sound Thoma' is recommended for those who are looking forward to spend this summer with their family at a holiday mood. So watch for Dileep and enjoy the movie with not many expectations.

SPK Rating : 6/10
SPK Verdict : Enjoyable