Emmanuel malayalam movie review: FDFS reports from theatres in Kerala

Emmanuel (Immanuel) malayalam movie review and FDFS reports from theatres in Kerala are given here. Debuting as director with Oru Maravathoor Kanavu in 1998, Lal Jose has climbed up the ladder as a successful film maker. Like his previous ventures, 'Emmanuel - Daivam Nammodu Koode'too carries a theme with life which can keep the audience intact.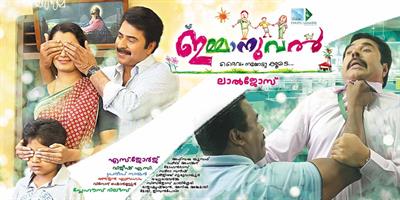 After the magical success of 'Ayalum Njanum Tammil', director Lal Jose put his effort onto his next project titled 'Emmanuel' with mega star Mammootty in lead. Entering the big league of booming directors, Lal Jose does keep high expectations for each movie which comes under his direction. Starting from his directorial debut 'Oru Maravathoor Kanavu', Lal proved his mettle behind the camera not only as a film maker but also as a man who wheels into the true life of people.

The uniqueness shown in each movie makes his different from other directors in malayalam cinema. After successfully launching actresses like Kavya Madhavan, Samvrita Sunil, Meera Nandan, Lal Jose is introducing yet another talent Reenu Mathews through the movie 'Emmanuel'.

After getting mixed response for his previous flick Kammath and Kammath, Mammootty has come up with a fresh look in and as 'Emmanuel - Daivam Nammodu Koode'', a movie which revolves around a man who is associated with a corporate world Emmanuel (Mammootty) is a peace loving man who lives with his wife Annie (Reenu Mathews) and son Robin (Master Gouri Shankar) is employed with a book publishing company.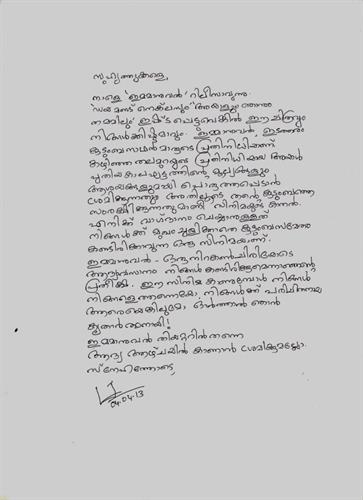 Being a B A graduate in malayalam, Emmanuel was working with the Kerala Publishing house in Kochi for the past 15 years. Though being a member of a middle class family, Emmanuel leads a comfortable life with his wife and son. The salary might not be sufficient for him to pull of the family, but finds happiness living in their rented house. Annie is a house wife while his son Robin is studying in the second grade. Emmanuel and Annie dream of owning a house of their own which could make them feel secure enter a comfort zone.

But things turned around as the company had to be shut down with Emmanuel losing his job. With all dreams shattered, Emmanuel was forced to work with an MNC where he finds too hard to adjust with the young colleagues.

The gap between two generations is being portrayed here where Emmanuel represents the older generation and Jeevan Raj (Fahadh Fazil) a representative of the new generation. The rest of the movie zooms into the life of Emmanuel where he had to confront with several problems and blockages.

Worked with the script of the movie for a year, A C Vijeesh has tried to give up his soul for the completion of the story, screenplay and dialogues. Mukesh, Salim Kumar, Nedumudi Venu, Devan, Guinness Pakru, P Balachandran, Bijukkuttan, Balachandran Chullikad, Ramesh Pisharody, Aparna Nair and Sukumari have lent their face for various characters in the movie.

The camera works had been safe in the hands of Pradeep Nair while the movie is blessed with beautiful songs rendered by Afsal Usuf for the lyrics of Rafeeq Ahamed. Produced by S. George, 'Emmanual got released on 5th April 2013 at 63 theatres.


Emmanuel movie review

Emmanuel, the latest movie ventured by Lal Lose opened with full houses in 60 theatres. As expected the movie is flavoured with all the essence coupled to keep the audience intact. The master of film making, Lal Jose has given a beautiful visualization for the theme written by debutant A. Vijeesh.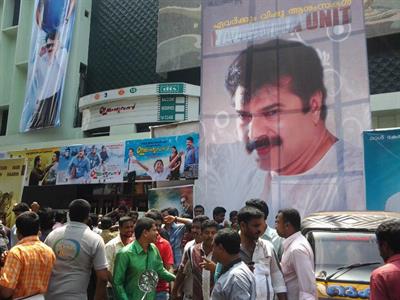 Mamoottty's character as Emmanuel is quite an example of a man who carries simplicity in life. Youth icon Fahad Fazil has yet again proved his mettle as Jeevan in the movie.

His combination scenes with Mammootty generated curiosity while producing tons of humour too. Debutant Rinu Mathew has done an excellent work in front of the screen giving no shades as of being a new comer. Child artist Master Gouri Shankar had been the star of attraction who gathered the love and support of the viewers in a day.

Mukesh, Salim Kumar, Nedumudi Venu, Sukumari Amma, Guiness Pakru, Aparnaa Nair and Mukta had given their whole heart for their respective characters. Sukumari Amma would be remembered for her presence and loveable role in the movie. The music of Afzal Yousufs was too good to keep the suspense and excitement at its peak.

In short Emmanuel with moments of humour and sentiments will be a high voltage drama which can be tagged as a 'decent movie' of all time. So if you are a person with a pure heart and carry the emotions of human beings, Emmanuel would be very special for you. So enjoy this summer with your family for a movie which carries a handful of encouraging messages for life.

SPK Rating : 7.5/10
SPK Verdict : Its worth watching