Kollam District (Quilon) – Top Attractive Places and Tourist Guide

Kollam district Quilon) top attractive places and tourist guide is given here. Kollam district is famous for its beautiful sceneries, forests, vast green fields, beaches, parks, back waters, temples, and lots more. It is also a hub for the marine product industries which takes up popularity day by day. Read this article to know more about the top attractive places and history of this district.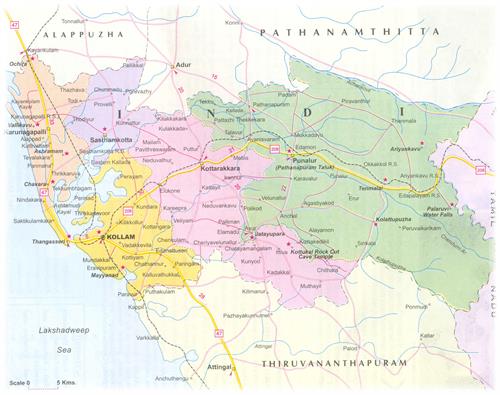 Kollam district, earlier known as 'Quilon' is considered to be the capital of the Cashew Industry of Kerala. This is one of the 14 districts of Kerala which has some interesting and fascinating stuffs all around. The district is famous for its beautiful sceneries, forests, vast green fields, beaches, parks, back waters, temples, and lots more. It is also a hub for the marine product industries which takes up popularity day by day. The district was at first assigned as 'The God's own Capital' due to its wide spread greeneries which are the base of the district tourism. It is a major coastal area located in the Southwestern region of Kerala. Trivandrum to its south, Pathanamthitta to its Northeast and Alappuzha to its North are the main districts near to it. Also, the mountain Sahya lies to the Eastern part of the district and and is covered by the Arabian Sea to its west. It covers about 2579 sq.km with around 2,635,375 of population by 2011 census in which 1,246,968 are males and 1,388,407 are females. Thus there will be 1113 females for every 1000 males in the district. Its population growth rate is 1.94% having a density of 1,061 d/km².

Here around 1,187,158 people are living in urban areas where as around 1,448,217 are living in rural areas. 1211 sq.km of the total land are covered by forest ie, around 48.62%. Thus the district is covered with wide range of vegetation and wildlife. District is ahead in literacy with about 94.09% of people educated. It receives about 275cm of rain every year with tropical climatic conditions. The district may have a maximum temperature of 36˚C and a minimum of 22.4˚C. The nearest airport is of Trivandrum about 76km from here and railways are available to all cities in India. Rather than these road, water and other local transportation facilities are also available. The tourists can enjoy their best with the arrangements and guidelines provided by the 'Kollam District Tourism Promotion Council'.


History

Kollam district was established on July 1949 when reunion of Thiru – Kochi was running. Mavelikkara, Thiruvalla, Chengannur, Ambalapuzha, Cherthala and Karthikapalli which were a part of this district later split and formed the Alapuzha district on 7th August 1957. In 825 AD began an 'Ancient Seaport Town' during the Malayalam Era called Kollavarsham which dated to AD 9th century. Historians assume that an ancient King of Venad named 'Udaya Marthanda Varma' had introduced a new period as the first month of the Malayalam year, 'Chingam' and gained a great popularity throughout these years. A Franciscan monk named John Montecorvino became the priest at Kollam in 1291. In 1321 came Friar Jordanus Catalini who became the Bishop of the Quilon Roman Catholic Diocese and had inspired lots of group. The St. Georges Church was built by him which has later become one of the major attractions of Kollam district. There was an important trade relation for the district with China and had a great boom in the industry. In 1502, a factory was established here by Portuguese which was later took over by the Dutch in 1661 and then into the hands of British in 1795. The Dutch and the British had a great influence over the architectural field due to the red tiled roofs of low skyline of Kollam.


Popular Tourist Places
1)Thirumullavaram Beach

Thirumullavaram is a beautiful and calm beach having no commercial disturbance with sand spread all over like the golden dust. It is located in the northern part about 6 km from the town. This place is perfect for having fun in shallow waters and also to have a long walk while the cool breeze and quiet waves run towards you. During low tides, the Nyayarazhcha Para (Sunday Rock) is visible which is well inside the sea and is a great still to capture. This place will be memorable for elders as well as children as it will be safe to enjoy swimming, sunbath, have picnics and also to watch fishermen catching huge fishes when the sun rises. This beach got its name from the 'Lord Vishnu Temple' nearby. Tourists and other local visitors are advised to visit here by evening as it is the best time to experience the best of this beach.


2)Shenduruny Wildlife Sanctuary

Shenduruny is a famous wildlife sanctuary that got its name from 'Chankurunji' (Scientific name: Gluta travancorica) which was an endemic species of the plant kingdom. Shenduruny has some exciting past. Its history drives us long back to the Stone Age which was even older than the Indus Valley. Historians have discovered some pre-historic rocks from a big cave which is believed to be a tool used in Mesolithic period. This is the perfect place for those raucous visitors to be free minded and have a great time in wild. Sanctuary is about 63 km from town in Pathanapuram taluk of Kollam district. It was recognized formally as a wildlife sanctuary in 25th – August – 1984 and is still the best. The sanctuary covers a total area of 100.32sq.km with wide ranges of animals including bonnet macaque, barking deer, gaur, tiger, lion tailed elephant, spotted deer, leopards, wild boar, nilgiri langur, mouse deer and lots more. Tropical evergreen forest, deciduous forest and tropical semi – evergreen forests are the top vegetation of this Shenduruny wildlife sanctuary. Tourists are advised to visit hare during the months from November – April.


3)Palaruvi Water Fall

It is a beautiful and lovely waterfall located 5km from Aryankavu on the Achenkovil River at Palaruvi of Kollam district. It is about 299ft ie; about 91m high which lies between the thick forest nearby. The falls looks similar to gallons of milk flowing deep down to shallow and thus gets its name as 'Palaruvi' which means 'stream of milk'. There are some medical uses for Palaruvi as it is enriched with lots of ayurvedic herbs through its upstream and thus can cure many major diseases. This is the best place for the tourists to get fully fresh and enjoy playing here in cool water. Visitors are advised to come here during monsoon season rather than dried up summer days. Monsoon season is perfect to see water that falls from high up the hills deep into the water and there are separate places allowed for children and ladies here. This place will be really exciting and adventurous for tourists and will remember them forever.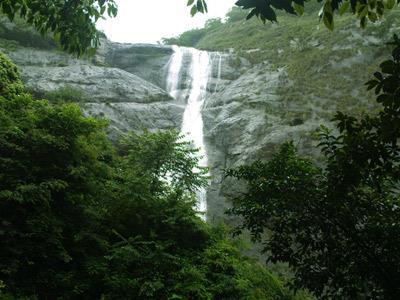 4)Thenmala

This is a small town located about 30km from Punalur and 72km from Trivandrum and has larger rubber plantations and thick forests among other. Thenmala is an exciting place not only for the locals but also for the foreigners who comes from all over the world to enjoy its beautiful natural sceneries and have great picnics together. The place got its name due to its large production of quality honey which also has some medical values. 'Then' means honey and 'Mala' means hillocks thus becoming 'honey hills'. It is the first place in India to establish an eco-tourism plan and thus grab the heights of popularity. During the summer month temperature rise maximum upto 39˚C and during winter it crashed down to 17˚C. Thenmala is famous for its 'Kallada Dam' and is also a spotted place for shooting films. The Kallada irrigation is the largest project in Kerala for better irrigation facilities. A deer re-habitation center is set up nearby for the visitors to see and learn more about deer. Visitors are advised to come here during day time and can enjoy trekking, mountain biking, hill thrills, boating, river crossing, nature trail and many other excitements which they could never forget.

Rather than these there are lots of places for the tourists like Adventure Park, Achenkovil, Aryankavu, Back waters, Kottarakara, Shencotta, Kottyian - cashew factory, Punalur, Karunagappally and lots more. The visitors will not go back when they comes to know about these beautiful scenes.