P Sathasivam Kerala Governor - Profile and Biography

P Sathasivam Kerala Governor profile and biography is given here. Palanisamy Sathasivam was born on 27 th April, 1949 in Kadappanallur Village of BhavaniTaluk , Erode District previously known as the periyar district, Tamil Nadu. Read the article to know more about P Sathasivam, Kerala Governor.


Palanisamy Sathasivam was born on 27 th April, 1949 in Kadappanallur Village of BhavaniTaluk , Erode District previously known as the periyar district, Tamil Nadu. He completed his schooling from Government High School, Singampettai and after commencement of his graduation, he opted to studied law at Madras Government Law College.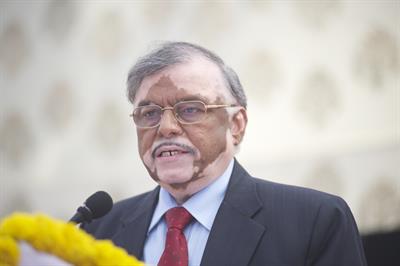 Hailing from an agro family, Shri Justice P. Sathasivam was the first graduate from his family and also the first law graduate in his village so his achievements were celebrated right from the beginning. He was given immense support from his family and friends to follow his dreams. The efforts that he had put, the dedication that he had was commendable because he came from a place where education was not the culture but he broke the shackles of society and perused his dream.

He is married to Saraswathi Sathasivam and leads a happy and prosperous married life. He is a family man and is concerned for his family and friends. He in his busy schedule too makes sure to be in touch with his family. He was a multi talented person and he used to juggle his professional career with great zeal and patriotism. He was a hard working man with a positive attitude and he valued quality of work over the quantity of work.

Palanisamy Sathasivam was appointed as an advocate on 25 July 1973 at Madras and practiced Civil and Criminal matters, Company Petitions, Insolvency Petitions, Habeas Corpus Petitions both on original as well as Appellate sides of the Madras High Court. He also has experience working as Government Advocate, Additional Government Pleader and as Special Government Pleader in the Madras High Court. He has seen and experienced all walks of advocacy, and is immensely talented and experienced professional. P. Sathasivam has also worked as legal adviser for several state-owned corporations, municipalities, and banks.

He was also appointed as a permanent judge of the Madras High Court on 8 January 1996 because of his abilities and proficiency in the field of advocacy, and then on this account he was transferred to the Punjab and Haryana High Court on 20 April 2007. Looking into his abilities and qualification Palanisamy Sathasivam was then promoted to the post of Judge of Supreme Court on 21 August 2007, which he considers as one of the greatest achievements of his life. During his reign as Chief Justice he was also the Chairman of the General Council of the Gujarat National Law University . He was multi talented and positive minded person, he was a very down to earth and disciplined person by nature.

Due to his immense talent, abilities and experience in the field of of advocacy he has been considered for the post of Governor of Kerala. He has succeeded the post from Sheila Dikshit following her resignation. He is also going to be the first former Chief Justice of Supreme Court who is to be appointed as the Governor of a State. 65 year old P Sathasivam has been appointed as the new governor of Kerala after the resignation of Sheila Dikshit.