Gayathri Suresh Miss Kerala 2014 Winner: Grand Finale Highlights

Gayathri Suresh Miss Kerala 2014 winner brief profile and biography and photos are given here. Miss Kerala 2014 runner up Konjitha John, Janitha Thomas, Lavanya, Sharon Soby Varghese, Priyanka Menon, Sukanya Sudhakaran and Varna Sampath short profiles are also given here. Read the brief profiles about Miss Kerala 2014 contestants Gayathri Suresh, Konjitha John, Janitha Thomas, Lavanya, Sharon Varghese, Priyanka Menon and Sukanya Sudhakaran.


After the 4 hours lengthy grand finale witnessed by hundreds of spectators, Gayathi R Suresh of Trissur crowned the Miss Kerala 2014 title. Konjitha John, also of Thrissur was declared the first runner-up while Janitha Thomas of Kochi walked her way bagging the second runner-up designation.

Shortlisted for 300 entries, 22 candidates walked through the ramp after undergoing a rigorous five-day grooming session lead by professionals in various fields. The beauty pageant held at the Venice of the East, Alleppey, the Camelot Convention Centre was truly a visual treat for the viewers who were present at the occassion.

Gayathri who hails from Thrissur is a 22 year old beauty who won the Miss Kerala 2014 title is a South Indian Bank employee and the daughter of Suresh Kumar and Rekha. Konjitha John who gave a tough competition till the final round is a company secretaryship student in Mumbai born to John and Shirley. Second runner up Janitha Thomas, daughter of Thomas Charlie and Maria Famila is a B Com student.

Along with the major titles, awards were given in various categories like Miss Beautiful Hair, Miss Talent, Miss Photogenic, Miss Congeniality, Miss Vivacious, Miss Beautiful Skin and Miss Beautiful Smile, Miss Social Media and Miss Perfect 10.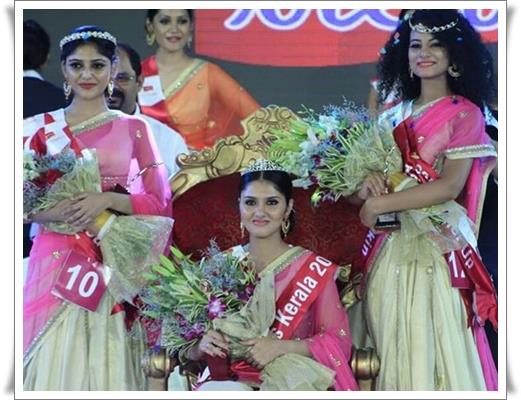 List of winners in Miss Kerala 2014 contest

Konjitha John won the Miss Beautiful Skin and Perfect Tan titles while Janitha Thomas bagged the Best Cat Walk and Beautiful Eyes titles. Janani Maria Antony bagged the Miss Beautiful Hair title and Priyanka Menon was adjudged Miss Beautiful Smile. Other winners were Sharon Soby Varghese (Miss Congeniality), Sukanya Sudhakaran (Miss Photogenic) and Varna Sampath (Miss Talented).

• Miss beautiful hair: Lavanya
• Miss congeniality: Sharon Varghese
• Miss beautiful smile: Priyanka Menon
• Miss beautiful skin: Konjitha
• Miss beautiful eyes: Janitha Thomas
• Miss photogenic: Sukanya Sudhakaran
• Miss talent: Varna Sampath
• Miss perfect ten: Konjitha John
• Miss best catwalk: Janitha Thomas
• Miss Kerala 2014 2nd runner up: Janitha Thomas
• Miss Kerala 2014 1st runner up: Konjitha John

The event was blessed with the presence of invited celebrities as jury members. The judging panel included Dr George John (Dubai International Hospital MD), Dr Sohan Roy (Director), V.A.Sreekumar (Push Integrated Communication chairman) Murali Menon (Theatre artist) actors Sijoy Varghese and Ranjine Haridas, V-Star chair person Sheela Kochousep, Sajan Najam (dance director) and Y.V. Rajesh (script writer).

This annual carnival which was conducted to search a Kerala beauty who could symbolize the true values of a Keralite was sponsored by Reliance Trends. Launched in 1999 by Impressario Event Management Company, the 15th edition of this beauty contest was a true success in all means.