Rose Guitarinaal Malayalam Movie Review - FDFS Reports from theaters in Kerala

Rose Guitarinaal malayalam movie review FDFS reports from theaters in Kerala is given below. This new movie, released on 1st March 2013 is a musical treat merged with good romance. The initial reports says that it is rated as a good movie which is quite different from the usual romantic movies. Read the article below to know about the story line, cast and crew behind "Rose Guitarinaal".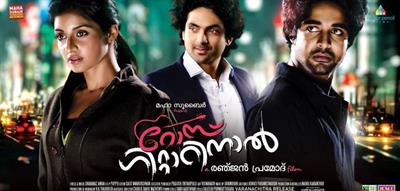 Introduction

"Rose Guitarinaal" is a musical romantic Malayalam movie under the direction of Ranjan Pramod. The movie was released on 1st March 2013 and it talks about the youth and the consequences and problems associated with a love. Richard Joy, Athmeeya Rajan, Manu and Rejith Menon appears in the lead roles. The director has tried his best to tell the story straight forward and to make us understand about the life in metro cities. The language, English is been dominating us in the present world. Most of us just ignore our mother tongue. Through this movie, we will learn that language has least importance when emotion speaks. It is a language understandable to all irrespective of place, color and creed.

The script for this movie is penned by its director itself. Ranjan Pramod is known for writing scripts for the hit movies such as 'Meesha Madhavan', 'Randam Bhavam', 'Manasinakkare' etc. As the name of the movie states, it has lot of musical moments within it. To make it more entertaining there are eight wonderful songs attached to it. The movie starts with a wonderful melodious song "Engum Nalla Pookkal…". The lyrics of this song is written by the music director itself. Shahabaz Aman has actually penned the lyrics for seven songs in this movie. The lyrics of the eighth song, "Manjum Nilavum Avalum Kulirilum…" is penned by the director Ranjan Pramod itself. The songs "Chuttiverum Katte…" and "Moonga…" from this movie is already been listened by millions over the internet. The peculiarity of the song "Chuttiverum Katte…", is that it is for the first time in Malayalam cinema that a song is shot continuously and it just took three minutes.


Cast and Crew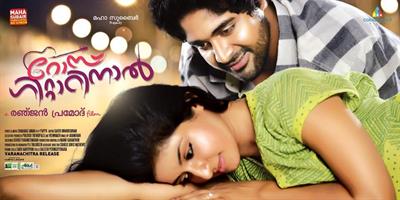 Cast: Manu, RejIth Menon, Richard Joy Thomas, Athmeeya Rajan, Thara Kalyan, Jagadhish, Joy Mathew etc
Director: Ranjan Pramod
Music: Shahabaz Aman
Lyrics: Shahabaz Aman, Ranjan Pramod
Editing: Sajit Unnikrishnan
Art Direction: Vishwanath
Costume Design: Kukku Parameshwaram
Cinematography: Pappu
Distributed by: Varnachitra Release


Story Line of Rose Guitarinaal

The story of the movie "Rose Guitarnaal", revolves around three characters Joe, Shyam, and Thara. 'Manu' appears as Joe, a Guitarist. He is blessed with loving parents who call him as 'Appu'. Joe is a lucky guy who enjoys lot of freedom in life and he is deeply in love with a girl. A newcomer Richard appears as Shyam, who is a millionaire. Shyam who has enough and more money has a passion for Thara, his colleague. Athmeeya gave life to the character 'Thara'. Thara is a simple girl from a middle class family who lacks confidence in life. Her father (Jagadeesh) is unemployed and her mother had left them early itself. In short, she is a girl who has lot of problems and have no support. During a campus recruitment, Thara got selected as an air hostess in a blue chip airlines. It makes her all excited and she will get along with her new life. Thara fell in love with a millionaire, Shyam, the CEO of the airlines company. The character 'Manu' is Thara's best friend and another person 'Joe' is secretly in love with her. Here begins the twist of the triangle love.

Thara who was brought up in a middle class environment gets fascinated by the life of the young, rich boys around her. She tries her best to be like them and to be one among them. She is actually into a new world when compared to her old life style. She dresses up like them and wants to attend parties. Thara, who is not fluent in English will try her best to learn the language as in this new world everyone talks in English during their conversations. The movie "Rose Guitarinaal' progresses with the love between Thara and Shyam, the conflicts and about the problems and blasts that occurred in their family due to this. All the lead and supporting artists have contributed their best to make this project a success.


Rose Guitarinaal Malayalam Movie Review

Altogether there is nothing weird in this movie. The team behind has taken utmost care to keep the viewers entertained until the last scene. It is a movie worth seeing as it has good romance and life in it rather than being filled up with disgusting scenes. Unlike early ages, these days the youth is into luxurious life. Only a handful of people are still living under the old atmosphere. The present life is so attractive that anyone will admire it and would want to lead such a life but it too has its own demerits. Here, in this movie too, a girl from a middle class family is suddenly entering a high class atmosphere. She finds everything new here. A special appreciation should be extended to the cinematographer Pappu.


SPK Rating : 7.5/10
SPK Verdict : A good romantic and musical treat