Amen Malayalam movie review- FDFS reports from theaters in Kerala

Amen Malayalam movie review and FDFS reports from theaters in Kerala are given here. Amen Malayalam movie first day first show report is updated here. Directed by Lijo Pallissery, Amen movie features Fahad Fazil and Swati Reddi in lead role. Amen has been released in major theaters on 22nd March 2013.


Malayalam movie industry is now passing through a golden era with a number of quality releases in 2013 gaining success in theaters. The week witnessed the release of movies like red Wine, Amen and 3 Dots.

Fahad Fazil, after a majestic 2012 is back in track with mind blowing characters. After getting claps for his role in Red Wine, Fahad is seen along with Indrajith in Amen.

After Nayakan and City of God,Lijo Pallissery is ready to enthrall the audience with Amen. For the story of Lijo, PS Rafeek has written the screen play and script. Produced by Shareef Khan, the movie has been released under White Sand Video banner.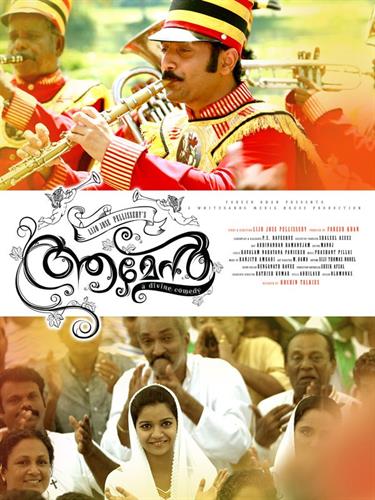 Story of the movie Amen

The story of Amen mainly focus on the life of people who live around an ancient church Kuvarnakari village. Sosanna(Swaty Reddy) is the only daughter of contractor Philipose. Solomon(Fahad Fazil) and Sosanna meets in the church and fall in love. The problem the couple have to face is followed which makes the movie interesting.

Indrajith plays the role of Fr.Vincent Vattoli who is in charge of Kuvarnakari church. Natasha Sahgal has played Indrajith's love interest while Rachana, Kalabhavan Mani, Anil Murali, Sandra Thomas have donned other prominent roles.


Amen Malayalam movie review

Amen Malayalam movie directed by Lijo Jose Pallisseri is an experimental film which portrays the real local romance story. Lijo Jose has made his presence behind the camera much impressive. The humour scenes was much enough to tickle the bones of the viewers. Fahad has once again proved his mettle with stellar performance as Solomon. Swathi Reddy too had shown on screen chemistry with Fahad in romantic scenes. Indrajith made his presence well noted. The movie kept its way high delivering an excellent climax. In short, Amen should be your first choice, if wishing to watch a movie with family during this vacation.

SPK Rating : 8.5/10
SPK Verdict : A watchable romantic thriller