Left Right Left Movie Review - A political movie of the age

Left Right Left, Malayalam movie review and FDFS first day reports from theaters in Kerala are given here. It is a political movie directed by Arun Kumar Aravind released on June 14th, 2013, Friday. It is in fact the second venture of Arun Kumar Aravind Murali Gopi team after the award winning movie "Ee Adutha Kaalathu".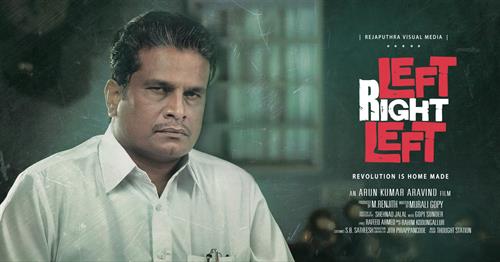 The latest Malayalam movie "Left Right Left" which hit the theaters yesterday is doing well so far. It is an apt movie to be released on 14th June, which is Comrade Che Guevara's birthday. The title of the film signifies the walk during a parade. The story is in fact the one which a Communist follower would always want to say. Through this film, the director has spoken out many truths relevant to our society, due to this factor, this movie will have to face a lot of critics. But it is indeed a bold attempt from the side of the team.


Cast and Crew

Cast : Indrajith Sukumaran, Murali Gopi, Remya Nambeesan, Hareesh Peradi, Lena Abhilash, Anusree, Mamukoya, Sethulakshmi, Vijayaraghavan, Byju, Suraj Venjaramoodu, Saiju Kurup, Irshaad, Shrejith Ravi, Sudheer Karamana.
Director : Arun Kumar Aravind
Producer : M. Renjith
Written by : Murali Gopi
Studio : Rejaputhra Visual Media
Music : Gopi Sunder
Lyrics : Rafeeq Ahamed
Cinematography : Shehnad Jalaal
Editing : Arun Kumar Aravind
Camera : Shahnad Jalal
Art Director : Ajayan Chalissery
Make-up Man : Rahim Kodungallur
Costume Designer : S B Satheesh

"Left Right Left", can be rightly called as a communist film which shows the real character of the present politicians and how corrupted they are. Another peculiarity of this movie is that it talks about various periods starting from 60's to the present age. The main story of the movie "Left Right Left" revolves around the lives of three different people. They are Jayan (Indrajith), Roy (Murali Gopi) and Sahadevan (Hareesh Peradi). Anitha (Lena) and Jennifer (Remya Nambeesan) also plays a prominent role in this movie. This is a movie which has to be watched with a positive element rather than pointing out its negatives and similarities with our leaders.

From the reviews received so far, we can concluded that the movie is filled with powerpack performances and the editing work done by the director himself is amazing. Hats off to the entire crew behind this project especially to Indrajith who gave life to the character 'Jayan' and to Sethulakshmi who appeared as Jayan's mother. The performance of Hareesh Peradi was outstanding. The songs, background music, dialogues, cinematography etc are excellent and requires a big applause. More than an entertainer, this movie is a serious film which is very much related to our real life.

The movie "Left Right Left" has thrown light into the fact, how poor our current political system is. In fact today hardly anyone has the courage to do so, but this team has shown the courage to speak out and to react in a different manner. A true India will always feel great after watching this movie. Its indeed a thought provoking film. Murali Gopi has proved himself once again. He can do wonders. All the very best to him.

Hareesh Peradi appears as Kaitheri Sahadevan, the most venerated and feared Communist leader in the state. Murali Gopi appears as Roy Joseph, who later turns out to be Che Guvera Roy. The stunning performer of this movie, Indrajith appears as Vattu Jayan, a police officer. Jayan who has seen the oxygen mask been snatched away from his sister's face for a rich patient, understood how cruel and corrupted is the world around him. Hence he wanted to be a cop. The story of these three people who comes form a different background lays the base of this film. In fact the movie explains how once childhood experiences and surroundings can change his character and overall mindset.
SPK Rating : 8.5/10
SPK Verdict : A must see political movie, not an entertainer