Geethanjali Preview: Story, Cast and Crew and Release Date

Mohanlal - Priyadarshn team's Geethanjali Preview - Story, cast and crew and release date is given here. The story of Geethanjali is another experience through which Dr. Sunny went through. The cast includes actors like Innocent, Shobhana, Keerthy Suresh etc. The movie will be Mohanlal's next grand release. Read in detail about the story, cast and crew and the release date of Geethanjali below.


The most anticipated movie of supersar Mohanlal in the recent time, Gitanjali's shootig is going rapidly in and around Thiruvananthapuram. It is the dream come true for Mohanlal and Priyadarshan to bring back Dr. Sunny to silver screens. Touted as a psychological thriller, Geethanjali is packed with suspense and humours. It is Priyadarshan who is calling the shots of the movie. Mohanlal will appear as Dr. Sunny- the character he had done wonderfully in Manichithrathazhu. Keerthy Suresh is the heroine of the movie. Shobhana will be doing a cameo role in the movie.


Cast and Crew of Geethanjali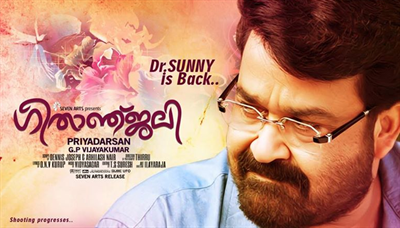 Direction : Priyadarshan
Production : G. P. Vijayakumar
Screenplay : Dennis Joseph and Priyadarshan
Music : Vidyasagar
Lyrics : O.N.V Kuruppu
Cinematography : Tirru
Banner :Seven Arts International
Distribution : Seven Arts Release
Starring : Mohanlal, Keerthy Suresh, Innocent, Nishan, Ganesh Kumar, Shobhana

Reunion of Priyadarshan and Mohanlal
It is the reunion of Mohanlal and Priyadarshan that is served as a hot cake while referring about Geethanjali. The movie is directed by Priyadarshan. The blessed pair- Mohanlal and Priyadarshan have always given us with memorable films. Malayalam film world is looking at yet another movie of this type from them. Gitanjali is very important for both the director and the hero, for Priyadarshan is looking for a strong comeback into Malayalam and Mohanlal is trying to change the low profile he had in his recent films.

The Heroine- Keerthy Suresh
A new actress is stepping into Malayalam film world through Geethanjali. The heroine of Gitanjali is none other than Keerthy Suresh, the daughter of yest year actress Menaka Suresh and producer Suresh. A golden opportunity has come for the newcomer. What do an actress to dream about her debut in Malayalam than a Priyadarshan-Mohanalal movie?. Keerthy Suresh is doing the role of a psychology patient in the movie. Nishan is paired against her.


Story of Geethanjali
Geethanjali is not a sequel to Manichithrathazhu. The story of Geethanjali is another experience taken from professional life of Dr. Sunny, reprised by Mohanlal in Manichithrathazhu. It is rumored that the Shobhana will be introducing Dr. Sunny in Geethanjali. The movie also has the same background as its prequel- a traditional house.


Release Date of Gitanjali
Geethanjali will be the first release of Mohanlal after a wide gap of more than 6 months. The shooting of the movie is going quickly. The team is planning to release the movie during as a Christmas grand release.