Dhanayathra: Swetha Menon's next a political drama

Dhanayathra malayalam movie (film) to be directed by Girish Kunnamel will feature Swetha Menon, Riyaz Khan and Mythili in lead. Produced by Girish Kunnamel under the banner Mookambika Creations, the movie is blessed with the presence of Anil Murali, Edavela Babu, Indrans, Bijukuttan, Mamukoya, Kottayam Naseer, Kalabhavan Prajood and Kavioor Ponnamma as supporting cast. The story and screen play of the movie is handled by A K Chandran. The movie is set at the backdrops of politics clubbed with family relatio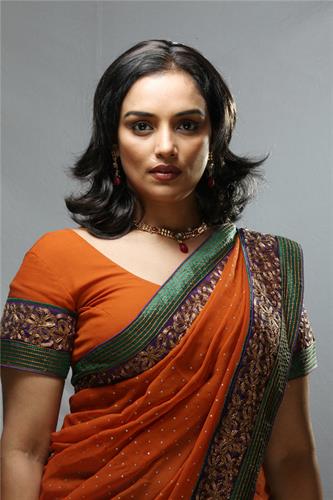 Young and bold Swetha Menon who is currently busy with couple of projects has signed for yet another movie to be directed by debutante Girish Kunnamel. Titled 'Danayathra', the movie will have Swetha Menon, Riyaz Khan and Mythili in lead. Produced by Girish Kunnamel under the banner Mookambika Creations, the movie is blessed with the presence of Anil Murali, Edavela Babu, Indrans, Bijukuttan, Mamukoya, Kottayam Naseer, Kalabhavan Prajood and Kavioor Ponnamma as supporting cast. The story and screen play of the movie is handled by A K Chandran.

The movie is set at the backdrops of politics clubbed with family relations. Even though a number of political movies including Ningalenne Cummunistakki, Inquilab Zindabad, Avanazhi, Rajavinte Makan, Lalsalam, Oliyambukal, Inspector Balram, Thalasthanam, Pathram, Chathurangam and Arabikatha have been made in malayalam, 'Dhanayathra' will give a special visual treat to the movie lovers.

As political thrillers have much scope, it is expected that this movie too can create waves. For the lyrics of Jinesh Kumar Eramum and Vayalar Sharathchandra Varma, the music is set by Kanjakadu Ramachandran. Anil Nair will stay behind the camera zooming interesting visuals. After the pre production works, the movie will start rolling from 10th June.

Swetha Menon who is active in the film industry is busy with her kollywood movie Malle Teega Meera, stage and TV shows. Recently, the actress stepped out of Hashim Marikkar's bilingual movie 'Kelvi', a suspense thriller. Her upcoming release in malayalam is '100 Degree Celsius, a women centric movie written and directed by Rakesh Gopan. Based on a real life incident, the movie also features Meghna Raj, Bhama, Ananya and Haritha. Much interestingly, '100 Degree Celsius' is touted as the first malayalam movie to have two – parts.

Meanwhile, actor Riyaz Khan is also donning an important role in the movie. Riyaz who has created his own space in the film industry is looking forward for the release of back to back movies. He will be seen as hero in Ithinumapparam and also have give life to a vital character in Seconds. Another interesting movie which is ready for release is 'Shadow Man'. This suspense thriller directed by Majo C Mathew will have Riyaz Khan as the only character while others are a shadow and a dog.