On F.B: A romantic suspense thriller by Riyaz Ismath

On FB malayalam movie (film) to be directed by Riyaz Ismath will have Adithyan, Srijith Ravi and Anumol in lead. On FB, themes around the advantages and disadvantages of Facebook. Produced by Babu Thomas Thodupuzha under the banner Azhakan Films, this would be yet another young generation movie for the movie enthusiasts. Riyas Ismath will be the scriptwriter for the movie. Kochupreman, Jefeena and Kolappully Leela will be seen in supporting cast. The camera would remain safe in the hands of Murali Raman. Yo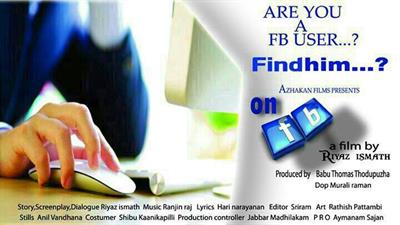 Various studies made on the use of Face Book have come up with the report that, more someone uses Facebook, the less satisfied he is with life. According to another finding, the more time spent on Facebook, a greater tendency toward narcissistic behaviors is seen among teenagers. Much interestingly, spending excessive amount of time on Facebook have brought psychological disorders in them.

The pros and cons of social media sites have always been the talk among the people. With around 7 billion users with Facebook and also other 250 social media sites, the topic will be in limelight for years. So can a film maker bring about the advantages and disadvantages?

Titled 'On FB', a movie directed by Riyaz Ismath too zooms into the ill effects of befriending people through social networking sites. When the healthy relationship turns to be a disaster, it would bring harm not only the individuals but would tear down the family too.

Adithyan, Srijith Ravi and Anumol will give life to lead characters in the movie. Produced by Babu Thomas Thodupuzha under the banner Azhakan Films, this would be yet another young generation movie for the movie enthusiasts. Scripted by Riyaz, this movie will have Kochupreman, Jefeena and Kolappully Leela in supporting cast. The camera would remain safe in the hands of Murali Raman. For the lyrics of Hair Narayan, the music is set by Ranjin Raj.

Young musician Ranjin Raj Varma will set the tunes of the movie. The shooting will start by 5th May at Thodupuzha and Palakkad. As per knowing the root of the movie, 'On FB' would be an eye opener for those who expose their personal information through networking sites.

Riyaz Isamth who had scripted for the movie 'Signal' is an experienced video editor too who wish to try his luck in the industry. Highly ambitious Riyaz is looking forward for his upcoming venture and aim to create his own space in the malayalam film industry.