Kuruthankettavan: A story of vengeance on silver screen

Kuruthankettavan malayalam movie (film) to be directed and produced by K.K.Shiju Cherupannoor under banner of Devikripa creations will feature Harikrishan and Anusree in lead. The movie is also blessed with the presence of Shammi Thilakan, V. K Baiju, Dharmagan Bolgatty, Kalabhavan Naranayankutty, Geetha Salam, J.Pallashery, Jobby Thilakan, Senthi, Sollaman Chaganashery, Jins Bhaskar, Rajendran Karumady, Getha Vijayan and Ponnamma Babu. The story and screenplay is handled with great care by Karumady Rajendr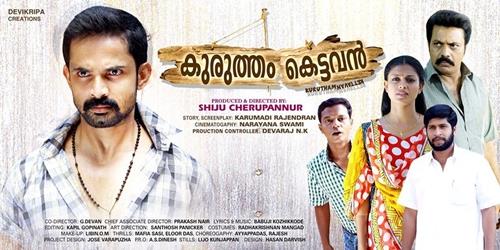 Yet another interesting movie with young actors donning lead roles is undergoing shoot. Titled 'Kuruthankettava', the movie directed and produced by debutante K.K.Shiju Cherupannoor will feature Harikrishan and Anusree in lead.

The movie is also blessed with the presence of Shammi Thilakan, V. K Baiju, Dharmagan Bolgatty, Kalabhavan Naranayankutty, Geetha Salam, J.Pallashery, Jobby Thilakan, Senthi, Sollaman Chaganashery, Jins Bhaskar, Rajendran Karumady, Getha Vijayan and Ponnamma Babu. The story and screenplay is handled with great care by Karumady Rajendran. The dialogues are written by Sibi Padiyara while the camera is moved by Narayanana Swami.

The movie is themed around a 23 old guy named 'Johny' who had to witness the murder of his mother in front of him. As it was his father who had done the transgression, Johny was carrying the vengeance in mind for long years. The movie also carries a social message propagating the thought that a child who is grown without the care of his or her mother and father would turn to be an aggressive person in life.

Johny who witnessed the brutal death of his mother at the age of 10 was brought up in an orphanage. Even since, Johny aimed to kill his father who viciously killed his mother. He was nourished and looked after by Fr. Gregory who provided him food, clothing and shelter. As Fr. Gregory got transfer to another parish, Johny was again left isolated.

During the time he found happiness from 'Maria', the daughter of Pulikoden Andrews, the richest man in that place. Maria, who became too close to Johny, falls in love with him. But Johny who carried revenge in mind to kill his father tried to avoid her love. During the time Johny's father Urumis comes out from the jail. It was then time for the father and son to see face to face. What happens next? Will Johny take revenge on his father? Rest of the story passes to the next phase and would keep the viewers intact.

This movie is produced under banner of Devikripa creations. The shooting of the film is progressing on the outskirts of Ambalappuzha.