Krishna Yaksha: After Vyshali, a visual treat for movie lovers

Krishna Yaksha malayalam movie directed by Suneesh Neendoor will have Showrya, Kuldeeep and Namdana Menon in lead. Produced under the banner of 20 twenty productions, this movie is blessed with an young cast including Keezhillam Unnikrushnan, Nandhan Menon, Raj Roy, Arjun Raj, Deepu Somashakharan, Geena Reji and Rajni Murali in a supporting roles. The major highlight of 'Krishna Yaksha' would be the 12 songs composed by 7 lyricists, 7 music directors and 9 singers together. The cinematography of this movie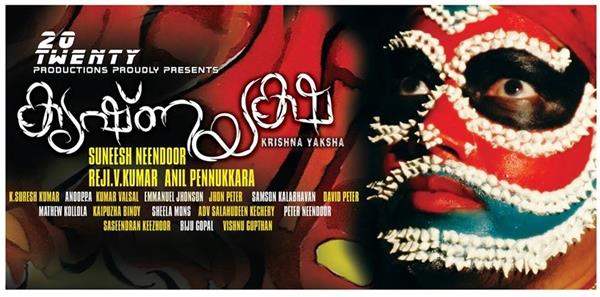 After stepping into the film industry with 'Nombaram', script writer and director Suneesh Neendoor is ready with his next commercial movie. This time the young film maker has chosen a story from history.

Titled 'Krishna Yaksha', this movie will feature a 5000 year old epical story without losing its ethical and historical touch. Sunil himself has scripted the movie which will be produced by 20 Twenty productions. Much dedication and fort has been taken by Sunil and his team to recreate the ancient ambiance onto the camera.

Much care has been taken by the director in choosing the cast. Through a unique way, suitable actors representing various film industries were taken, instead of sticking on to big stars of just one industry. This movie can be considered as a combined effort of crew members on and behind the camera.

It's actually a mixture of devotion, divine love and a bit of hot sizzle content. The historical or the mythological touch is said to be the main highlight of this movie.

'Krishna Yaksha' revolves around a curse from 'Lord Krishna'. 5000 years ago Lord Krishna had given a curse to Yakshan for the bad deeds he had done. After the validity period, when 'Yakshan' got free from the curse, he becomes very dangerous. He breaks into a peaceful and calm family and destroys the life of its family members. His presence shatters the peaceful minds.

Rest of the story takes a different shape with unpredictable incidents. The movie would deliver a visual treat for the movie lovers. Bollywood actor Showrya would give life to 'Yakshan who had been spotted in an amazing look. Sunil has added his signature touch to the movie which can stand equal to the making of 'Vyshali'.

Kannada actor Kuldeep also appears in a prominent role. Keezhillam Unnikrushnan, Nandhan Menon, Raj Roy, Arjun Raj, Deepu Somashakharan, Geena Reji and Rajni Murali would also be seen in supporting roles. The major highlight of 'Krishna Yaksha' would be the 12 songs composed by 7 lyricists, 7 music directors and 9 singers together. The cinematography of this movie will be safe in the hands of Reji V Kumar. The shooting of this movie got over at Kollankoodu and the movie is currently at the post production stage.

After the final cut, the movie would reach theatres as a musical and visual entertainer.