Ennu Swantham Ellanjikavu P.O: Sensing the dignity of mother tongue

Ennu Swantham Ellanjikavu P.O malayalam movie to be directed by Adv. Sangeeth Louis will have Jayaram, Saleem Kumar and Meera Nandhan in lead. This movie is produced by Sisilly Kaipparadan under the banner of Ezabella Movietone, this movie also has the presence of Kalashala Babu, Spadikam George, Narayanakutty, Biju Kuttan,G .K Pillai, Dinesh Panikar, Kumarkam Raghunath, Vanjiyoor Praveen, V. K Baiju, Thampi Kollam, Sheraf, Ansari Kilimanoor, Boban, Shiyas Kollam, Seenath, Baby Gayathiri and Baby Akhila. Th


Yet another movie which discusses the dignity of the mother tongue is under making. Titled 'Ennu Swantham Ellanjikavu P.O', the movie directed by Adv.Sangeeth Louis is packed with a strong star cast including Jayaram, Saleem Kumar and Meera Nandhan is lead.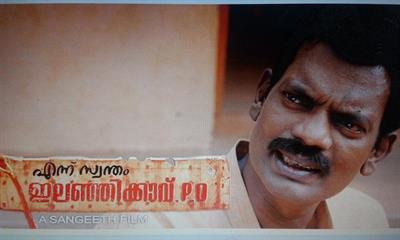 It would also be a strong comeback of actor Salim Kumar who had proved his ability in all aspects of acting. The story of the movie revolves around Sivaraman Master (Salim Kumar) who loves his mother tongue immensely. Knowing the dignity and greatness of his language, the struggle taken by him for the development of Malayalam are being narrated here.

Mangaattukara is a village with piece and calmness which makes the people loving each other. But the people are backward in education. Sivaraman seen this as a major problem as education is the mast basic thing needed. He began his struggle against the authorities for getting literacy right for the villagers. The people gave strong support for him towards the struggle.

During the time he was put in the jail for a deed that he hasn't done. Charles Martin (Jayaram) realizes the innocence of Sivaraman and finds the real culprits. Finally the court found Sivaraman innocent and sets him free. From there onwards Charles started giving full support to Sivaraman.

Niya(Vaiga) who comes from America stays in this village. Sarasan(Kalabhavan Shajon) plays her Manager while Suraj Venjaaramodu (Azhakeshan) as her malayalam teacher. Both of them dream to reach America at any means. Lakshi (Meera Nanda) had been in love with Charles from the early age. Biju Menon plays C.I Surendran, a close friend of Charles. Kalabhavan Mani dons the role of Mandan Chaplin while Tini Tom will be seen as Sathyasheelan.

Produced by Sisilly Kaipparadan under the banner of Ezabella Movietone, this movie also has the presence of Kalashala Babu, Spadikam George, Narayanakutty, Biju Kuttan,G .K Pillai, Dinesh Panikar, Kumarkam Raghunath, Vanjiyoor Praveen, V. K Baiju, Thampi Kollam, Sheraf, Ansari Kilimanoor, Boban, Shiyas Kollam, Seenath, Baby Gayathiri and Baby Akhila. The dialogues are written by Shamms while the tunes are set by Pardha Sarathy. Sujith Murali stays behind the camera.