Vijay Yesudas Malayalam Playback Singer - Profile and Biography

Vijay Yesudas Malayalam Playback singer profile and biography is given here. Vijay Yesudas,one of the best Malayalam as well as Indian play back singer who hails from a family of musicians and is a person who have earned the hearts of millions within a short span of time. Read this article to know more about Vijay Yesudas.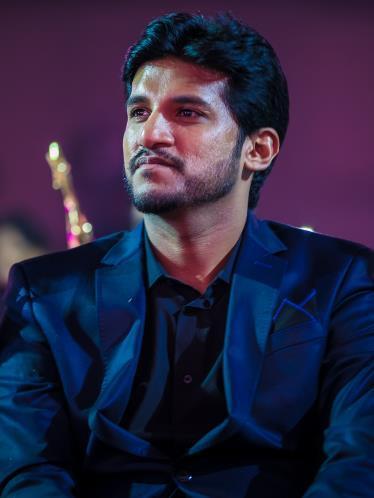 Introduction
Vijay Yesudas, an established Indian play back singer who has created some mesmerising moments in malayalam film industry hails from a family of musicians and is a person who have earned the hearts of millions within a short span of time. Vijay is popularly known to all as the son of legendary singer Dr. K. J Yesudas. His talent in music was first discovered by his father itself and became his first preceptor in the field of singing. His debut on Malayalam playback singing was on the year 2000 through the movie Millenium Star directed by Jayaraj, produced by Kireedam Unni. Even though his first few tasks were flop, his Endeavor to singing reach him at the pinnacle position of Indian playback industry. Yet he lent his voice to more than 130 films in different languages.


Earlier Life and Career
Vijay Yesudas was born on 23rd March 1979 at Chennai in Tamil Nadu to K. J Yesudas and Prabha. He is the second of his family with elder brother Vinod and younger brother Vishal. From childhood onwards Vijay showed an aptitude towards music. Vijay done his schooling at Chennai up to 9th standard and there after he went to US for higher studies. He starts developing his skills after joining at Miami University where he got graduation for BA music. He married to Darshana and have a child named Ameya. Even though he started singing from earlier days, his career starts from Miami University. His first song for the movie 'Millennium Stars' in 2000 was not noticed much. However his later songs were accepted by the people. He made his debut in Tamil playback industry through the movie Friends in 2001. Later in 2004, he start singing for Telugu films and in 2007 for Hindi films. He worked with many of the renowned music composers of Indian playback industry which includes Ilaiyaraja, Dakshinamoorthy Swami, M Jayachadhran, Karthik Raja, Deepak Dev, A R Rahman, Raveendran and many others.


Contributions and upcoming projects
Some of the noted contributions of Vijay Yesudas to Malayalam play back singing are given here. Thankathingal (Manassinakkare), Mizhikal (Vismayathumbathu), Be happy (Satyam), Aarundine (Pulival Kalyanam), Poompuzhayil (Photographer), Kolakuzhal Vili, (Nivedyam), Allipoove (Bhagyadevatha), Koovaram kili (Banaras), Priyanu Mathram (Robinhood), Neeyam thanalinu (Cocktail), Oru Madhurakinavin remix (Teja Bahi and Family), Ee Puzhayum sandhyakalum (Indian Rupee), Moovanthiyai Akele (Beautiful), Mazhakondu Mathram (Spirit), Kanneer kadalin (Akasathinte Niram), Oorum Perum Ariyathe (Thappana), Aarthunkale Palliyil, (Romans), Neela Mekham (Pakaram), Thirayum Theeravum (Memories). Arabian Safari (Malayalam), Govindudu Andarivadele (Telugu), Athade (Telugu), Lava Kusa - The Warrior Twins (Telugu) are the latest movies in which he is planing to contribute.


Awards
Within a limited period many awards came search of his sweet voice. Two times he received Kerala State Film Award, first for the song 'Akalayo Nee' of the movie Grand Master in 2002 and then for 'Kolakuzhal Vili' of the movie Nivedhyam in 2007. Later in 2013, he was selected as the best male singer in Asianet Film Award, Aviation Award and in Cera Big Malayalam Music Award. Many numerous mainstream awards also came search of his voice such as Sathyan Memorial Award, Vanitha Film Award, Amritha Mathrubhoomi Award, Kerala Film Critic Award and many more.